Indivizible Hosts Education Reform Panel With Mayor Kevin Johnson, Richard Whitmire, And Michelle Rhee
Black Agenda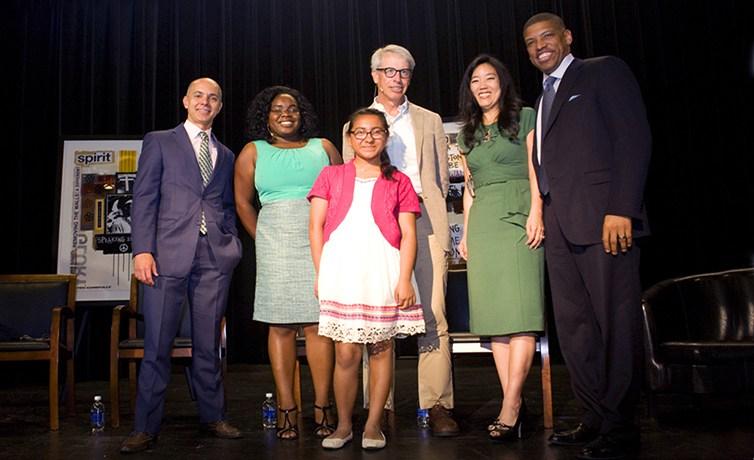 Sacramento, CA – Yesterday, Indivizible hosted a panel discussion at the Guild Theater that was moderated by Sacramento Mayor Kevin Johnson and focused on reforming education. The timely discussion came one week after the California Superior Court for the County of Los Angeles issued a historic decision in Vergara v. California, striking down as unconstitutional five harmful provisions of the California Education Code.
Daniella Martinez, one of nine student plaintiffs in the landmark Vergara v. California case, also joined the panelists.
"Quality public education is the bedrock of our society — the gateway through which children grow to thrive in our democracy and in our economy. The Court's recent ruling in Vergara v. California affirmed a fundamental American truth: that every child, no matter their zip code or parents' income level, has an equal right to learn and succeed in our public schools," said Sacramento Mayor Kevin Johnson. "That's why I stand with the nine brave student-plaintiffs who brought the Vergara lawsuit. As a result of their courage and their refusal to settle for less than they deserve, California now has the opportunity to right what's been going so terribly wrong in our education system for many years. And their resounding victory in Vergara v. California is not just a victory for other students like them but a victory for every single Californian. Because strong public schools mean a brighter, more stable and more equal future for us all."
IMG CAPTION: (L-R) West Sacramento Mayor Christopher Cabaldon, Rocketship Spark Academy Teacher Chioma A. Umunakwe, 'On the Rocketship' Author Richard Whitmire, StudentsFirst CEO Michelle Rhee, Sacramento Mayor Kevin Johnson and Vergara v. California plaintiffDaniella Martinez
PHOTO CREDIT: Maria Christie Photography
For a high-res copy of these images, please email Symia Stigler at symiastigler@gmail.com.