PS7 Middle: About Us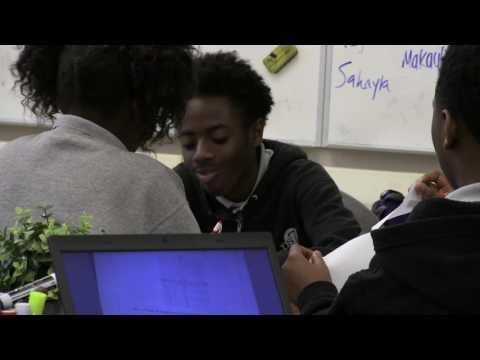 Vision
To create one of the finest urban public middle schools in the nation.
Mission
To promote self-motivated, industrious, and critically-thinking leaders, who are prepared to graduate from a four-year college, or university, committed to serving others and passionate about lifelong learning.
Listen, Respect, Work Hard
LISTEN: PS7 scholars are expected to listen to others, paying attention to what a person is saying so that they can hear it, consider it, and take action. Only one person speaks at a time during instruction with the rest of the class tracking the speaker. Listening also includes hearing and following all directions. PS7 scholars will be on‑task at all times during class and follow all instructions during breakfast, lunch, and transitions.
RESPECT: Scholars at PS7 are expected to show that they see themselves and others as important. They must be careful and thoughtful in their actions to create a safe and supportive learning environment for all. This includes scholars, teachers, all adult staff, as well as school and personal property.
WORK HARD: Tackling a rigorous curriculum and preparing for college is hard work. Here at PS7, we expect our students to do their best and increase their effort when met with a challenging encounter. We know that to be successful students must put in the time, thought, and effort needed without giving up or letting up!
College Going Culture
The expectation is that 100% of PS7 scholars will attend and graduate from a four-year university. Every year our 6th graders visit UC Davis, our 7th graders visit UC Berkeley, and our 8th graders visit Stanford. As a part of the visit, scholars go through the process of completing a college application as a means of preparing for their futures. Each scholar also belongs to a home room that is named after a university, adding to our college going culture.
Dedicated Teachers
PS7 teachers go above and beyond in the classroom to ensure all scholars are on track to meeting the rigorous Common Core Standards that will put them on a path to and through college. PS7 teachers make that choice and commitment to do whatever it takes for our scholars to succeed.
Our Results
In our first year of implementation of the Common Core Standards, our scholar results were very impressive, particularly in the 8th grade. Our 8th grade ELA results were 17% higher than the district average and our 8th grade math scores were the second highest in the district, trailing only 2% behind the top performing school. Our Science results were the highest in the city with 91% of our students meeting or exceeding the standards.