10 Important African American Organizations In Sacramento You Should Know
Economic Development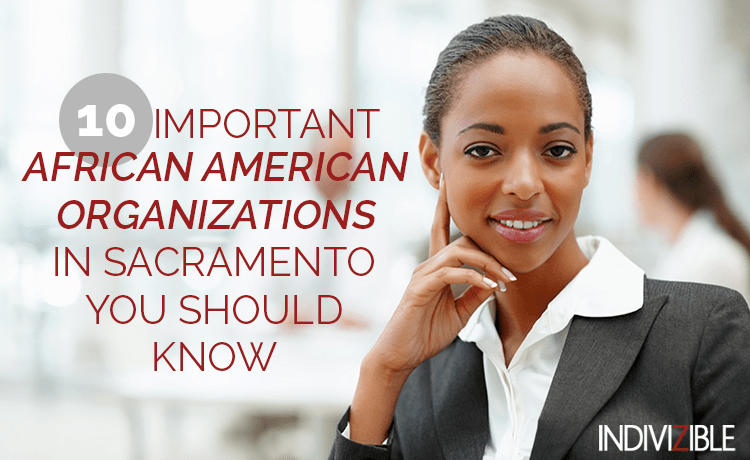 1. Greater Sacramento Urban League
As an affiliate of the National Urban League, the Greater Sacramento Urban League is just the right community organization to be apart of if you're looking stay ahead of the curve.
As a member you can expect to gain skills that have the potential to take your professional career to the next level. The Greater Sacramento Urban League offers leadership training and life skills support to further your education, job development and management skills.
The Greater Sacramento Urban League also offers G.E.D preparation, computer program training, tutoring for high school students, job training, and software production training courses to those in need.
2. Greater Sacramento Urban League of Young Professionals
The Greater Sacramento Urban League of Young Professionals is a volunteer affiliate of the Greater Sacramento Urban League, affording young adults, age 21-40, a place to flourish professionally.
Their vision is to create a positive impact in Sacramento's communities by implementing programs, securing African-Americans economic self-reliance, parity, power and civil rights.
Members enjoy exclusive invitations to GSULYP events and dinners, community service, advocacy opportunities, professional and development trainings, networking opportunities and numerous social events.
3. 100 Black Men of Sacramento
Since the inception of 100 Black Men of Sacramento back in 1988, their mission has been to improve the quality of life in the African-American community through one-on-one mentoring. However, over the last 20 years the Sacramento chapter has expanded considerably and takes pride in culturally enriching young African-American males through group mentoring, seminars and workshops.
100 Black Men of Sacramento recognize the crises taking over the black community and aren't giving up on our communities. Their initiatives include enhancing the quality of education for African-American students (which includes a youth scholarship program), mentoring at local high schools, a health and wellness program, economic empowerment and a summer program for high school sophomores and juniors.
4. National Coalition of 100 Black Women
The National Coalition of 100 Black Women is a truly awesome organization to be apart of. They describe themselves as a "development of socially conscious female leaders who are committed to furthering equity and empowerment for women of color in the society-at-large, improving the environment of their neighborhoods, rebuilding their communities and enhancing the quality of public and private resources for the growth and development of disadvantaged youths."
The National Coalition of 100 Black Women is passionate about community service and the creation of wealth for social change, the enhancement of career opportunities for women of color and the overall empowerment of women of color.
On a local level, the National Coalition of 100 Black Women is working hard in AIDS/HIV prevention, assisting teenage girls with theirFostering Hope program and are offering higher education assistance with their high school/college scholarship awards.
5. Indivizble
Indivizible is one of the greatest resources the city of Sacramento has to offer. Why? Indivizible gives members a window into what African Americans stand to gain, and lose, within the educational, political and economic landscape. The organization's primary goal is to ensure the African-American community, here in Sacramento, will be one of the most powerful economic and political forces in our country.
Every month, Mayor Kevin Johnson, community leaders and members work in unison to further Indivizible's goals of strengthening educational achievement in our youth, economic empowerment and ensuring a strong African-American voice in local and statewide politics.
Although Indivizible is half way through it's highly sought after Speaker Series this year, there are still a few speakers on the docket that are for sure to bring out a considerable crowd, as well as get you motivated for growth.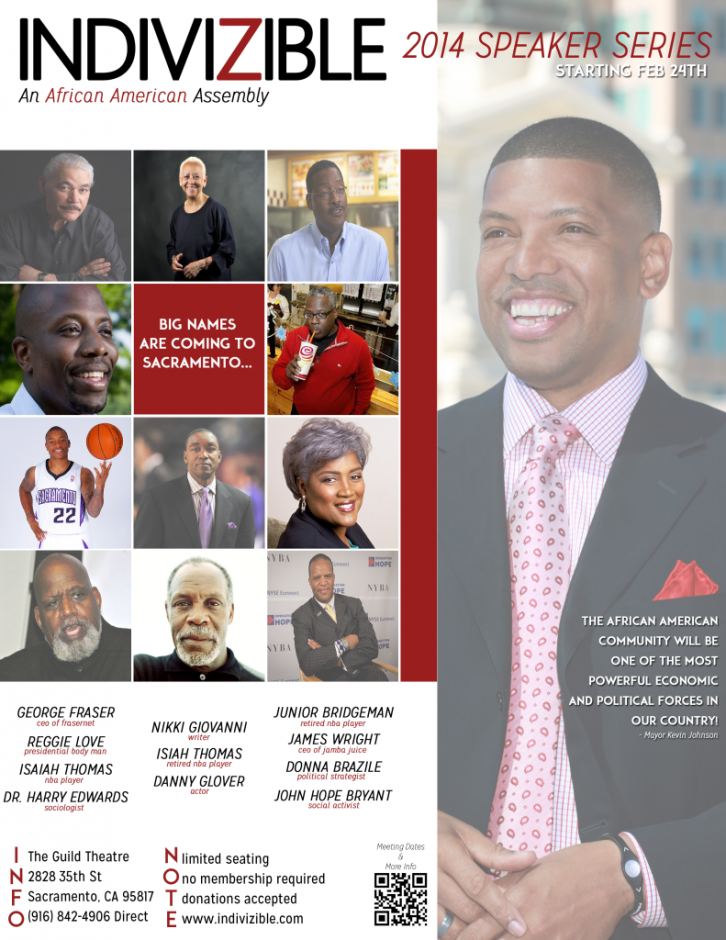 Members are currently awaiting social activist John Hope Bryant, CEO of Jamba Juice James Wright and the amazing poet and writer Nikki Giovanni.
There are so many reasons you should be at the next Indivizible meeting!
6. The Sacramento Chapter of The Links (Invitation Only)
The Links is a volunteer service organization of Sacramento's most talented professional women, committed to enriching, sustaining and ensuring the identities, culture and economic survival of African-Americans and persons of African descent.
They offer a performing arts program for the youth, preserving the legacy of African ancestry, services to the youth, human health and human services , national and international trends and services that serve the needs of people of African decent throughout the world.
If you want to rub shoulders with some of Sacramento's most influential decision makers, as well as collaborating with the community to promote change, then The Sacramento Chapter of The Links is definitely the organization for you.
7. Jack and Jill (Invitation Only)
Jack and Jill is a social organization for mothers and their children (ages 2-19). Jack and Jill's sole purpose is to significantly increase the quality of life of the participating children, by bringing the children together in a social and cultural environment. Ultimately, fostering an environment for children to reach their fullest potential. Mothers and children work alongside each other on numerous community service projects, fundraising for scholarships and local community outreach programs.
There aren't many organizations that allow mothers and daughters to build their relationship with each other, strengthen bonds of friendship with their peers as well as build relationships within their community all within the same organization.
8. Sacramento Black Chamber of Commerce
Black business owners always deserve an advocate for their voice and Sacramento's Black Chamber of Commerce is definitely a resource for such voice.
The Black Chamber was created to bring African-American business owners and professionals together, creating a solid economic structure for Sacramento's business community.
Joining offers a host of benefits, including business networking and mixers, a professional meeting space, increased exposure with business referrals, entrepreneur education and training, online marketing for your business, online job and resume posting and considerable member discounts.
One must also consider the Young Entrepreneurs Academy (YEA), which is available to young adults age 16 to 23 with at least a 2.0 gpa.
YEA provides students with theoretical and practical tools required to be successful in business and in life. Their workshops offer lessons in credit management, investing, saving, and career exploration. Their goal is to help members create a culture of wealth by working diligently to close the achievement gap.
9. Sacramento Black Professionals Meetup
Sometimes you have to switch things up and try something a bit out of the box and the Sacramento Black Professionals Meetup Groupdoes just that.
The Sacramento Black Professionals Meetup is a group of young, diverse professionals coming together in a social and informal setting to foster professional alliances. Enjoy local wine tasting, cocktail hour, live jazz, professional mixers and their annual group trip, all while making new professional friends.
10. National Association for the Advancement of Colored People (NAACP)
We all know the NAACAP as the organization willing to go the distance on issues regarding African Americans and our communities. Well, this hasn't changed and if you weren't aware they have a Sacramento chapter dedicated to ensuring the political, education, social and economic civil rights of all minority persons. The Sacramento Branch of the National Association for the Advancement of Colored People (NAACP) has as its mission to ensure the political, education, social and economic civil rights of all minority persons living in the city of Sacramento.
By bridging the worlds of ideas and action, our open door policy offers African American and other minority citizens an opportunity to voice their concerns regarding issues affecting their community.