Sacramento defense provides plenty of reasons to make the Dragons a playoff pick
November 8, 2021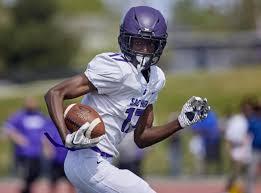 We already knew the Sacramento Charter High School offense could score in bunches. Saturday's 41-19 win over Golden Valley in the Sac-Joaquin Section playoffs provided a reminder: The defense is also really good and the Dragons will be a factor in the Division III playoffs.
Sacramento had three interceptions in the first half as Damarion Taylor, Terance Williams Jr. and Keimari Benjamin all stole the ball from the Cougars.
Benjamin's might have been the most impressive. Not only did the linebacker weave 40 yards through traffic for a touchdown, he caught the ball while wearing a pink cast on his left arm. The cast protects his wrist, which he broke Oct. 7 against El Camino. The cast will still be around next week when the sixth-seeded Dragons travel to third-seeded Manteca for a quarterfinal.
Williams just laughed when it was suggested that Benjamin's interception might have been the best play of the game. "He will catch anything," Williams said. "If he has maybe a broken arm or a broken leg, no problem." The Dragons defense doesn't require Benjamin to perform any heroics, though. The Dragons have 16 interceptions from eight different players in going 9-2 this season. And the defensive line helps with that effort. In the first half against Golden Valley, Sacramento's Zuri Franklin pressured the quarterback and forced an errant throw. Williams was right there to pick it off, naturally. "We just focus on switching and making our calls. And just reading the quarterback, watching where he's going," Benjamin said. "It's all about communication and assignments," Williams said. "If you do your assignment, you might get the pick like I did."
Read more at: https://www.sacbee.com/sports/high-school/article255620661.html#storylink=cpy