Mikal Brown To Indivizible: Bryant's Book "How The Poor Can Save Capitalism" Is "Nothing If Not Practical"
Economic Development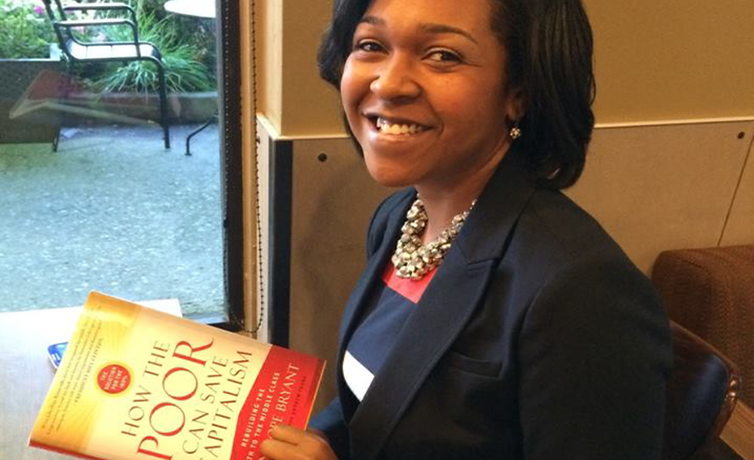 We can all agree that when you read John Hope Bryant's title of his latest book, "How The Poor Can Save Capitalism", it's hard for anyone to not give the book a second glance. The argument in itself is, to most, initially baffling. The poor saving our society's middle class? Yeah, right! Right?
However, John Hope Bryant is certain that the poor will be the key component to rebuilding the middle class and he showed no reservations, in spirit, as he detailed his theory to Indivizible members at last weeks meeting and the August installment of the Indvizible Speaker Series.
After hearing Bryant speak, Indivizible members mobilized next door, into the Underground Bookstore to get their copy of his book, in hopes of getting a window into Bryant's vision of global financial literacy.
One of the first people in line was long time Indivizible member Mikal Brown, and within a matter of days she managed to complete Bryant's book and wanted to share her thoughts:
This was a powerful perspective and one that IS "NOTHING IF NOT PRACTICAL". The foreword by Ambassador Young was an inspirational introduction to the attitude and energy "That makes John an Artist as well as a businessman".

I could appreciate this perspective as I am an entrepreneur who is very active in my community specifically in the areas of economic empowerment.

After reading this book, it gave me HOPE and a confirmation that the work I do to reach the next generation of entrepreneurs is in lock step with a movement that truly can save our communities and country.

–Mikal Brown