Sac High —Turning Around a Failing High School
2009 Results
St. HOPE Public Schools began operating Sac High as a charter school in 2003 — a year after Sac High had been declared a failing school. The turnaround has been remarkable.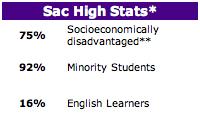 API has steadily increased, the 4-year dropout rate has fallen from 9.4% to 3.7% and the school's college-prep curriculum and college-going atmosphere have students reaching new heights, with graduates being accepted at leading universities like Stanford, MIT, Duke, UCLA, UC Davis and Howard.
Only 20 to 30 % of students were going to four-year colleges before St. HOPE; more than 70 % of the class of 2009 were accepted into four-year colleges.The school's cultural and social environment has improved as well. Students wear uniforms, attend school from 8 a.m. to 4 p.m., are required to complete 40 hours of community service yearly and must maintain a 2.0 to participate in sports, clubs, dances and other activities.