Silent Disco Party
First Fridays Oak Park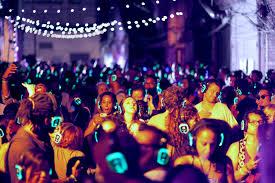 Silent Disco at Esther's Park
Join us in the new Esther's Park for a Silent Nights Disco Party every First Friday between May – September. This fun outdoor venue is ideal for your next birthday party, date night or girls night out!
How it works:
Using your special wireless headphones, you can adjust the volume and choose between up to three DJ's with a flip of a switch. Each headset has a color LED that shows what channel you are listening to. It's super social; you're in control of the music! There's no loud music that you have to talk over. Plus, there's no ringing in your ears when you leave!
3 live DJs are spinning all your favorite beats between 6pm-9pm.
****
Silent Disco, games, cocktails, and more.
****
Cost:
$10 – Includes pair of wireless headphones + 1 drink coupon (offer only available online)
$5 – Includes pair of wireless headphones (offer only available online)
FREE – Admission is free to attend the party!
****
Entry:
All Ages
21+ for Cocktails
Time:
6:00 PM Start
9:00 PM End
****
About Esther's Park
Est. 2018
The 3rd Avenue lot near St. HOPE's 40 Acres Complex was once the site of Esther's Pastry Shoppe, a two-story mixed use building constructed in 1915 that provided Oak Park residents with freshly baked goods through much of the 1900's. By the time the historic building was acquired by St. HOPE Development Company in the late 1990's, it was in a state of disrepair and in need of major funding before it could be restored. In 2018, the badly deteriorated building was deemed uninhabitable and was therefore demolished.
After just a few months, St. HOPE transformed the empty, fenced up parcel into a newly landscaped park appropriately named "Esther's Park". St. HOPE's latest addition to the culturally rich Oak Park neighborhood was constructed to add to the continuing growth and diversity of the community. Esther's Park now provides another gathering place for users to host events, celebrate special occasions, and support the local economy.
To inquire about having an event at the new Esther's Park, please contact manager@guildtheater.com.
****
Location:
Esther's Park