Meeting of the Minds
By Jake Mossawir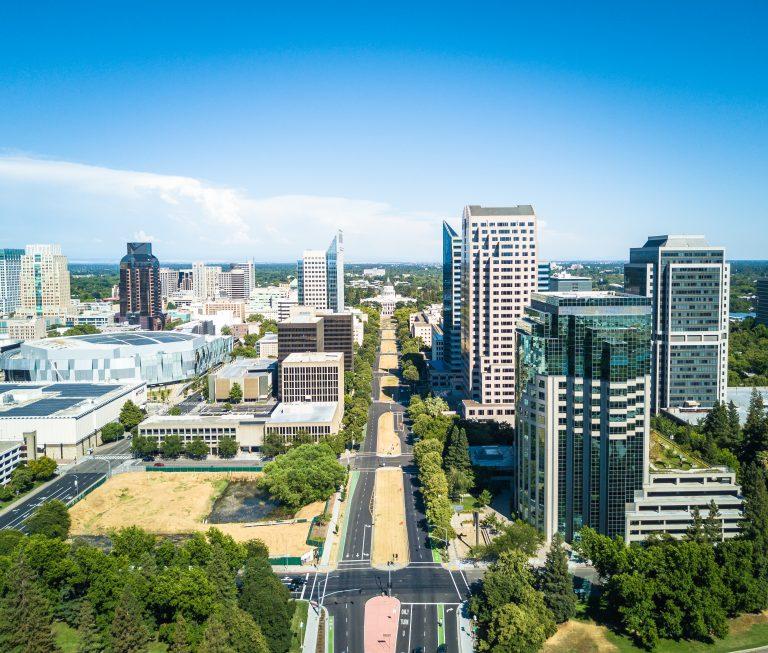 Some neighborhoods get pushed to the side, separated (figuratively and sometimes literally) from the heart of a city and left to face growing rates of crime, poverty, unemployment, or other harmful consequences.
For too long, that was the story of the Oak Park neighborhood near downtown Sacramento, California. Through a concerted effort by a local non-profit in the community for the last 30 years, we are seeing real change and an upward trajectory. The Oak Park story provides lessons and hope for similarly situated communities across the country.
Oak Park was the first small suburb of Sacramento in the early 1900s – it was a bustling neighborhood where an ethnically diverse population worked at the railroads, state fair, canneries, and the highway commission. In the 1920s and '30s, streetcars brought people from across the area to Oak Park to enjoy its theater district, businesses, and "Joyland" amusement park. By the '40s, the African American population was growing as many other neighborhoods in Sacramento were off limits due to racial covenants. Increasing violence troubled the neighborhood and race riots broke out in 1969. Then in the 1970s, the impact of the major freeway that physically separates Oak Park from the rest of downtown Sacramento was exacerbated as its off ramp into Oak Park was closed. Not only was there a physical barrier cutting off Oak Park, but there was no easy way to bring traffic and business into the community.
Blight, unemployment, drugs, prostitution, and poverty all began to increase. Oak Park became known as a crime-ridden neighborhood stuck in a cycle of generational poverty.
But today, Oak Park is on the rise. Within these two square miles, new businesses are coming to the neighborhood, jobs are being created, property values are rising rapidly, and educational attainment is increasing at astonishing levels. This isn't an accident.
There has been a purposeful effort to help breathe investment and opportunity into the Oak Park area. There are many different community organizations and non-profits working hard to build momentum and revitalize Oak Park. St. HOPE is a family of nonprofits that functions as a community development corporation with a focus on revitalizing the Oak Park community through high quality public education and economic development. What began as a summer enrichment program for school-age boys has grown into a multi-faceted nonprofit business model that generates revenue through real estate development, investments and operating companies, and we are now proud to have become self-sustaining rather than reliant on charitable donations. In addition to investing in the local community, our organization runs three public charter schools in Oak Park. With more than 1,500 students and 200 employees, St. HOPE is a powerful and positive presence that is transforming the community and its citizens.
Certainly, there are challenges along the way:
How do we balance needed investment with concerns about gentrification?
How do we attract new resources and opportunities without making it unaffordable for existing residents?
How do we make the neighborhood safer and stronger with a higher qualify of life, without displacing the people who have long called Oak Park home?
This is a delicate process that does not have a defined framework or clear solutions.
As we move forward, St. HOPE is working hard to focus on two elements that are absolutely necessary for a healthy neighborhood – excellent schools and a strong local economy.
We run Sacramento Charter High School, serving grades 9-12, Oak Park Prep, serving grades 7-8, and PS7, serving grades TK-8. The hallways at St. HOPE's schools are filled with low-income, high-needs students. The school population is highly diverse, with 64% African American, 22% Latino, 7% multi-racial, 4% Asian, and 2% White students. Many do not have the support and resources at home that they need and deserve. While we acknowledge and work to combat these issues hand-in-hand with the students and their families, we never use it as an excuse for accepting anything less than excellence.
We've raised the bar and our schools are producing extraordinary results in our Black and Latino students, as well as our overall student body:
Sac High is the highest performing high school in the state where African American students make up at least 50% of the tested student population.
When looking at African American males in the whole Sacramento City Unified School District, St. HOPE had 95% of that demographic eligible for the UC and CSU system upon graduation, compared to 21% districtwide.
In 2016, 100% of Sac High's Latino students, male and female, were eligible for the UC and CSU system compared to just 35% of that subgroup across the state.
96% of Sac High students were accepted into four-year colleges in 2017.
Data was recently released on the 2018 California Assessment of Student Performance and Progress (CAASPP) results, which measure student achievements in Math and English Language Arts/Literacy. One notable data point is PS7 Elementary's 3rd grade achievements in math. This grade level posted a score of 71.9% for math achievement, compared to the 38% district-wide average. That's the type of strong performance that we strive for and are proud of.
The 2018 CAASPP results show there are areas of strength within St. HOPE's schools, as well as areas where we must focus even further on improving academic outcomes for our scholars. This means guiding our scholars to their greatest capacity and continuing to close the achievement gap and bring students' skills up to grade level. We remain committed to ensuring quality education, providing variety in our programming, and creating a place where every scholar has the opportunity to be challenged, feel joy, and find success at school.
We know that what happens on our campuses greatly impacts the life chances and outcomes of young Oak Park residents. But we also know that we cannot truly affect change if our schools are islands of excellence within a larger community that is ignored. That's why St. HOPE also has a strong emphasis on economic development.
The St. HOPE Development Company is focused on investing in Oak Park real estate and businesses that stimulate growth, create jobs, catalyze synergistic development, and provide a return on investments. Our nonprofit owns and operates neighborhood businesses and has a variety of real estate investments. While many conversations surrounding gentrification focus on the residential side of the equation, we have taken the approach of focusing on the commercial and retail sides. We believe that by providing the right mixture of goods and services that are relevant and accessible to both long-time and new residents, we can strike the right balance for those who choose to stay as well as those who have relocated to Oak Park. Therefore, we are purposeful about seeking out tenants for our properties that fit with the focus of the organization.
St. HOPE's initial investment in the 40 Acres Art & Cultural Center in 2003 has served as a major centerpiece for economic revitalization – it is a mixed-use facility home to Old Soul coffee house, Underground Books, the Guild Theater, apartments, a barber shop, and the incoming Lolo's Chicken and Waffles sit-down restaurant. St. HOPE fully restored the Guild Theater in 2002 and today it seats 200 people for films, performances, and community events. Underground Books is one of only 57 African American operated bookstores in the nation, and it serves as a literary hub, community event space, and gathering place for the neighborhood. St. HOPE also provides both debt and equity financing for small businesses in Oak Park including, La Venadita, Old Soul and Oak Haus.
Additionally, the St. HOPE Business Complex is now home to the California Asian Chamber of Commerce, Sacramento Asian Chamber, Nehemiah Foundation and the Greater Sacramento Urban League. Other St. HOPE tenants include Teach for America, College Track, the Sacramento Employment & Training Agency, and Valley Vision, a leadership organization dedicated to tackling the biggest challenges affecting the livability of the Sacramento region. These organizations now sit in Oak Park, doing good work on behalf of the neighborhood and the greater Sacramento community.
Our next round of development will focus on PS7 Elementary, which was recently awarded a $25 million grant to rebuild its campus. But we are not content doing a simple site remodel. This school campus sits in a particularly distressed part of the Oak Park neighborhood, so we are working hard to pursue bigger goals for the redevelopment project which will include a grocery store and affordable housing on the adjacent vacant lots. We believe these type of commercial investments bring needed services and opportunities to existing Oak Park residents, rather than drive the displacement of lower-income families or bring unwelcome change.
As we do our daily work on-the-ground in Oak Park, we are encouraged to continually see growing centers of hope and opportunity. St. HOPE's scholars are doing extraordinary things in the classroom and heading to college – one of the best ways to fight against the generational cycle of poverty. And our businesses are breathing new investment, opportunity and positive activity onto the streets of Oak Park.
We are proud of what we've done so far, but we know there is still so much more to do to elevate Oak Park in the best ways possible. This requires careful consideration, compassion, commitment and creativity. St. HOPE is fiercely committed to this work as we approach our 30th anniversary next year, and we are excited to help shape the next 30 years in Oak Park.
———————————————————————————-
Jake Mossawir is President/CEO of St. HOPE; he has dedicated countless hours to the Sacramento community, serving on multiple boards including the Sacramento Asian Chamber of Commerce, Ronald McDonald House Charities, College Track, American Leadership Forum, St. HOPE Public Schools and the Historic California Governor's Mansion Foundation.