Oak Park resident invests in revitalized Broadway with new jewelry shop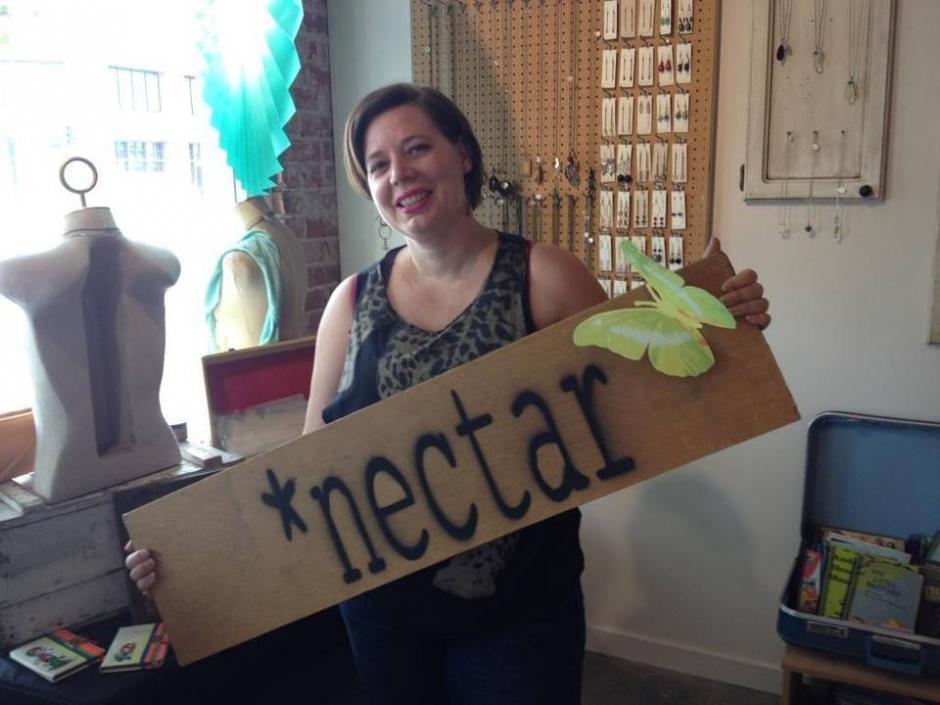 BY CATHIE ANDERSON
canderson@sacbee.com
Oak Park resident Janell Lacayo is investing in her neighborhood, opening her Nectar jewelry boutique a few weeks ago in one of the renovated properties that architect Ron Vrilakasredesigned and owns on Broadway.
Lacayo had been selling her handmade jewelry mostly at arts and craft shows for seven years, though some locals will recall that she also had short stints at the now-shuttered East Sacramento Mercantile over at 3257 Folsom Blvd.
Now she's leasing 650 square feet at 3328 Broadway in the historic Pedroni Building, a neighborhood pharmacy in the 1900s. Her shop is steps away from another new tenant, the Popp Littrell Architecture & Interiors firm.
Lacayo told me: "I've lived in the neighborhood for about six years. The idea here is to be able to incorporate my studio space into my retail space, so while I'm here, I can create."
Although most of the square footage in Nectar is filled by Lacayo's jewelry, she also sells some vintage clothing and dish towels that she's collected over the years, essential oils byLove Your Body and soaps from PitterPattern Designs. The shop is open 11 am. to 6 p.m. Wednesday through Saturday and noon to 4 p.m. on Sundays.
Those hours could be extended if Lacayo earns enough revenue to make her feel secure enough to quit her bartending gig at Cafeteria 15L over at Sacramento International Airport. Still, with the opening of her Nectar boutique, she's taken a pretty big step toward living the life she's always wanted.
The 34-year-old Lacayo said she spent years pursuing a business degree at Sacramento State and working in the banking industry, but neither endeavor really felt right.
"To be happy, I needed a life that involved my creativity and that gave me that room for self-expression," she told me. "I'm very self-driven and self-motivated. … My parents were always in business for themselves, and my grandparents were entrepreneurs. It was just the direction I wanted to go."
Lacayo's entrepreneurial grandparents, Ben and Gladys Eckhardt of Nevada City, kindled her love of jewelry-making.
"My grandparents were rock hounds," she said, "and … my grandpa started getting into lapidary and faceting. My grandma started doing the wire wrapping. We grew up in adjacent homes. …This was something that they bestowed upon me at a very young age. They used to take me on their rock digs with them."
Her parents moved to Idaho when Lacayo was in middle school, she said, but she never lost her love for making jewelry. She returned to Nevada City at age 18 and moved in with her grandparents to help out the aging couple.
"My grandfather was in his 90s and deteriorating," Lacayo said. "I just remember I was working in his old studio, which was a very emotional and a very fabulous kind of time … to birth this business."
She was trying to come up with a name for her jewelry when a friend suggested Nectar, telling her that her work definitely rated as some of the sweet stuff in life. Customers are as likely to find vintage elements in Lacayo's jewelry as they are to find stones she's purchased from wholesalers.
One necklace features a blue and silver pendant that was a brooch when Lacayo purchased it. Look carefully at her shoulder-duster earrings and you will find that not all of them feature exactly the same elements on both sides, yet they balance despite their asymmetrical shapes.
"Earrings are definitely my biggest passion," Lacayo said. "The first thing I usually gravitate toward in the morning is a pair of earrings."
Lacayo said she didn't immediately think of turning her love of jewelry-making into a business, but then friends and family started complimenting her work. When she gave pieces to them as gifts, she said, they would come back and tell her about all the compliments they'd received. So, she made some pieces to sell at a booth at the annual Festival de la Familia one year, and the response encouraged her to keep going.
While Lacayo wants to get Nectar established as a retail store, she said, her plan is to also offer classes on jewelry-making in the space because customers have urged her to teach in the past.
"What I'm creating goes beyond selling my own product," she said. "I want people to interact, hold a dialog. Art doesn't just happen. These things are work. It's labor."
Cathie Anderson: 916-321-1193, @CathieA_SacBee

Read more here: http://www.sacbee.com/news/business/biz-columns-blogs/cathie-anderson/article85664602.html#storylink=cpy