Inaugural Oak Park Black Film Festival Stirs Passions
September 17, 2022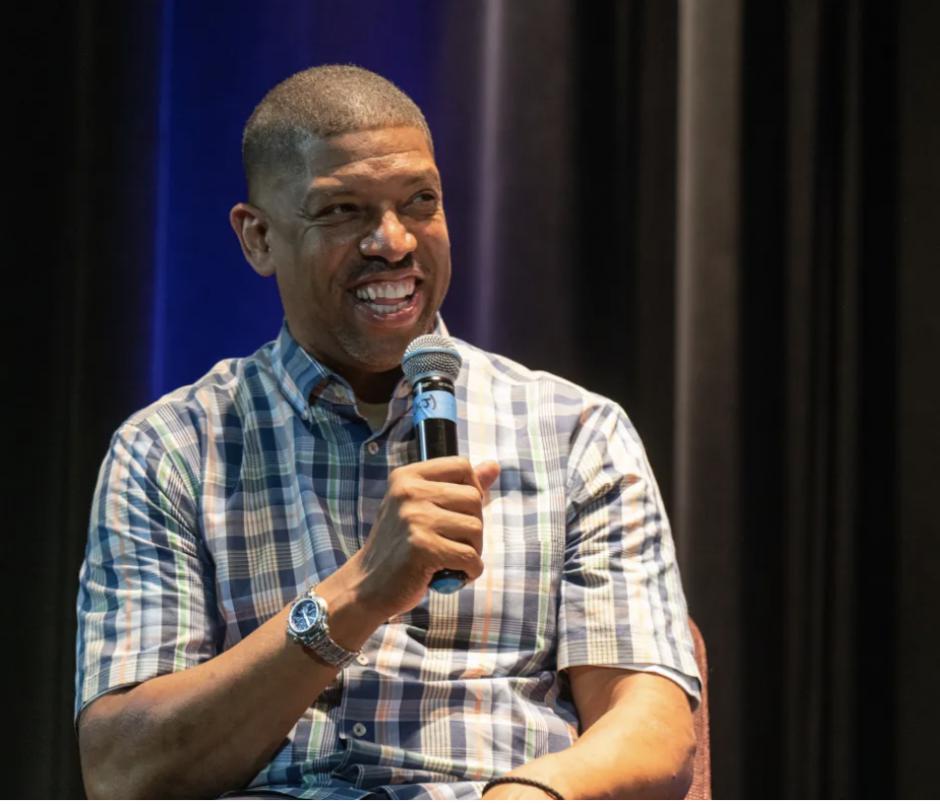 Click Here for theThe Full Online Story
(OAK PARK) – On a moment's notice, Dr. Julius Garvey flew across the country from New York City to attend the inaugural Oak Park Black Film Festival in Sacramento. He'd been invited to sit on the discussion panel for the short film about his father, "Whirlwind: The Marcus Garvey Story," directed by Shaka Satori.
"If I had to choose one highlight, it'd be Marcus Garvey's son being here at 89 years old," said Kevin Johnson, the former Sacramento mayor and St. Hope founder who organized the event. "He flew here without a lot of notice just because he wanted to tell his dad's story and clear his name."
Dr. Julius Garvey may have been the oldest person to have traveled on short notice, but he wasn't the only one. The film festival was planned in less than a month.
Twenty-eight days after Johnson left the 20th annual Martha's Vineyard African American Film Festival in August, the five-day Oak Park Black Film Festival kicked off at the Guild Theater on Sept. 7.
"I remember flying home wondering if we could do this in Sacramento," Johnson, 56, said. By the time he landed, he'd made up his mind: he'd bring the festival to Oak Park.
The inaugural festival drew more than 1,000 attendees, selling out the 200-seat theater the last three days. The 18 independent short and feature films ranged from the stirring biopic "Remember Me: The Mahalia Jackson Story," to the subversive sex comedy "The Threesome."
Each film was accompanied by filmmaker discussions in which Johnson asked questions about the creative process, funding, and distribution. The floor then opened for audience questions where attendees praised, challenged and related to the films.
One of the most riveting conversations centered on the second film shown about Jamaican pan-Africanist Marcus Garvey, the feature-length documentary, "African Redemption: The Life and Legacy of Marcus Garvey."
While speaking to co-producer Alison Anderson, Johnson said he experienced "tons" of emotions watching the film. When he opened the floor for discussion, a 76-year-old audience member said she was "grateful" the film was picked up by universities. Another audience member of Jamaican heritage said the film "tap danced" around Garvey's segregationist ideology.
"We tap danced around a lot of things – we had to," Anderson responded from the stage. "This film is 85 minutes long. We could do a three-hour documentary and get more into certain things."
Passionate dialogue was part of the festival's magic.
"Great films are about stirring people's emotions through storytelling," Johnson told The OBSERVER. "But they've also got to create engagement and conversation."
Johnson did not bring this event to life on his own. From the podium on opening night, he introduced his "secret weapon," Kindra Parker, director of the Martha's Vineyard African American Film Festival.
"I've been a fan since his basketball days and I was familiar with a lot of the development he did in Oak Park," Parker said. "As a culture keeper, it was really critical for me to do whatever I could to get the festival to Oak Park."
Parker started as a volunteer at Martha's Vineyard in 2013 and worked her way up to festival director. The event has grown to attract A-list Black celebrities, with Michelle and Barack Obama making headlines this year at opening night.
The Martha's Vineyard festival also is one of the few Black film festivals accredited by the Academy of Motion Picture Arts and Sciences.
"If filmmakers show their films at Martha's Vineyard, they could be considered for an Oscar nomination," Parker said. "We did the work to get that relationship and make sure we're giving filmmakers the opportunities for exposure and funding for projects."
Festivals can turn the tide for Black filmmakers often overlooked in an industry where less than 6% of the writers, directors, and producers of U.S.-produced films are Black, according to a recent study by management firm McKinsey & Company.
One of the few independent films to strike a distribution deal was the biopic "Remember Me: The Mahalia Jackson Story," which was shown at both Martha's Vineyard and Oak Park.
Helmed by Black female writer and executive producer Ericka Nicole Malone, the film boasts a star-studded cast with Wendy Raquel Robinson, Columbus Short, Corbin Bleu, and Grammy-winning soul singer Ledisi in the title role as the iconic gospel singer.
Malone credits film festivals for helping her "build momentum" to secure the distribution deal. "We'd be invisible without [film festivals]," she said.
While many of the films at the Oak Park festival had budgets of less than $1 million, Malone's budget was significantly larger.
"Hollywood doesn't always give us open doors… so we put our own money into the film," Malone said, explaining to Johnson that she financed the film with the co-owner of her health care firm. "It was a very nice budget, because that's what our people deserve."
Malone recognized that everyone may not have these same resources, but urged aspiring filmmakers to not be discouraged.
"Don't let money be the thing that slows you down," Malone said to THE OBSERVER. She referenced producer Issa Rae who started off on YouTube before striking it big with "Insecure," her hit show on HBO. "Just make sure production quality is there. If you have $10 make it look like $100," Malone said.
While the Oak Park Black Film Festival featured 13 films screened at Martha's Vineyard, it also included five by local filmmakers.Oakland-based director Damien McDuffie showed two shorts at the festival, "The First Monument: Huey Newton Sculpture" and "The Black Panthers in Augmented Reality: Billy X," which was filmed in Sacramento.
"I'm very new to filmmaking," McDuffie said. "Film festivals have taken me to Australia, the East Coast, California and other places. They've opened up my mind to the possibilities." McDuffie said he now plans to raise funds to turn his films into a docuseries.
"From day one we've had local filmmakers — and I'm proud of that," Johnson said. "We already have a target date for next year in October, so we're definitely going to try to get as many local folks as we can – even if we have to do an extra day."
With a year to plan the second Oak Park Black Film Festival, the event is on track to be an important resource to the Sacramento film and arts community.
"Film is such a powerful medium," Johnson said. "I can still remember being 10 years old and sitting on my living room floor watching every single episode of 'Roots.' And here I am, 40 years later, next to these filmmakers sharing untold stories with the community."