Historic Oak Park cycle location to get total makeover
June 8, 2016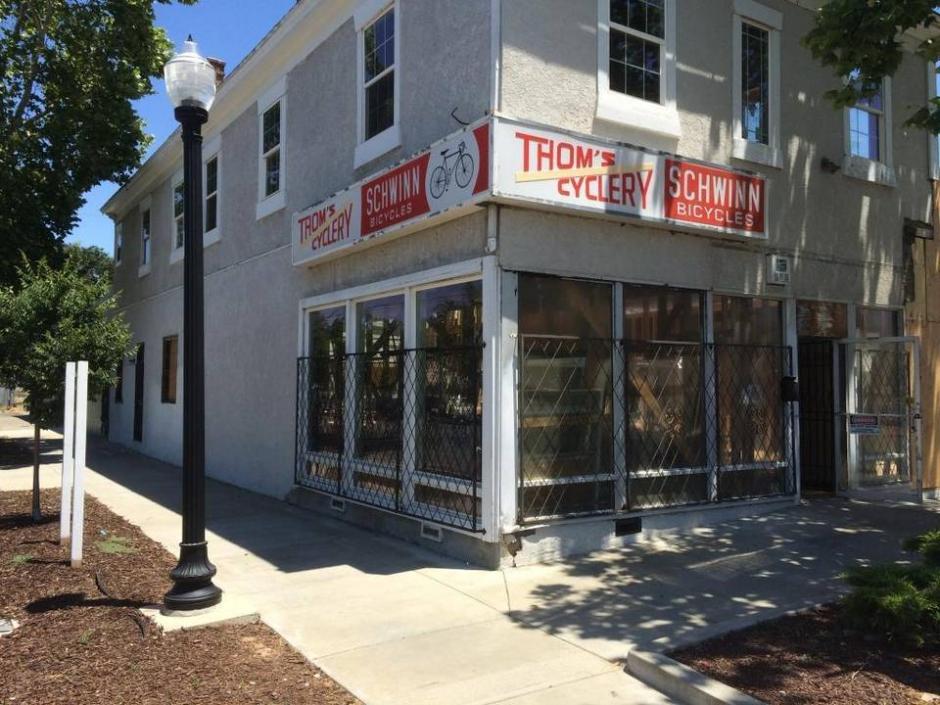 Historic Oak Park cycle location to get total makeover
Site of Thom's Cyclery is being restored to resemble its original look
The result will be street-level commercial space and two upstairs apartments
Project, to be completed this fall, adds to Oak Park renaissance
1 of 5
The Thom's building shortly after it was built in 1896, when horses and a trolley line took people to the newly established Oak Park suburb. The structure on the right was destroyed by a fire sometime before World War II but the main structure still stands at 34th Street and Second Avenue. The Thom family
BY BOB SHALLIT
bshallit@sacbee.com
The Oak Park building that housed Thom's Cyclery for 60 years is being restored to its original 19th century look in the latest creative development project in Sacramento's first suburb.
"It's going to look old again," said building owner Justin Campbell of the $750,000 historic building renovation project that began earlier this year at the corner of 34th Street and Second Avenue. The makeover is due to be completed this fall, with space available for commercial businesses at street level and two apartment units on the second floor.
Campbell, 43, owns Kombi Haus, a VW and Audi repair shop that's next door to the Thom's building at 3401 Second Ave., just off the booming Broadway stretch that's now home to trendy apartments, retail shops, eateries and a brewpub.
He bought the 9,000-square-foot Thom's location in 2011, following the closure of the bike business four years earlier, and began looking into creative reuses.
The project is driven by sentiment and nostalgia as much as pure business sense.
Campbell grew up in Oak Park and bought his first Schwinn bikes at Thom's when he was a youngster. Today he has 80 or 90 bikes, mostly Schwinns, hanging from the rafters and walls at his popular repair and body shop.
"A bad habit, I guess," he said, smiling, of the ever-growing bicycle collection.
His plans are ambitious for the next-door building, which dates to 1896 and housed a grocery store and then a furniture business before the Thom family relocated their bike business there from a nearby location in 1938.
Much of the renovation involves undoing various remodeling projects conducted over the years and bringing the two-story building back to its original look.
The stucco exterior that went on the building a half century ago is being stripped off and replaced with cedar or pine siding that is being custom-milled to the precise 8-inch-wide dimensions of the boards that originally were on the building, said Robert Tellesen, owner of Vogue Homes, the general contractor on the project.
In addition, vinyl-clad windows are being replaced with wooden ones more fitting to the building's origins, Tellesen said.

Read more here: http://www.sacbee.com/news/business/biz-columns-blogs/bob-shallit/article82646487.html#storylink=cpy