Slim + Husky's Celebrates 1 Year in Oak Park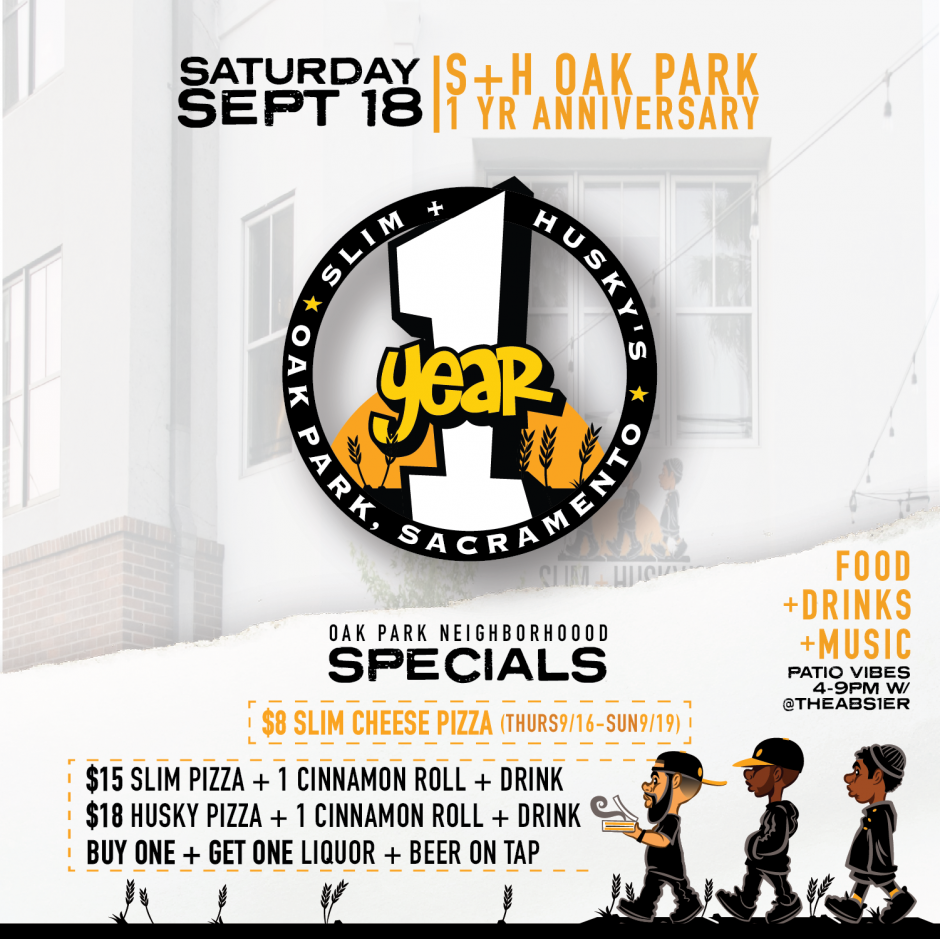 One year after Slim & Husky's Pizza Beeria opened its first west coast location in Oak Park, its owners are ready to celebrate with the community and look ahead at continued growth and positive impact in the neighborhood. Everyone is invited to stop by Slim and Husky's for guaranteed great experiences including:
Friday Night, September 17th from 5-7pm: Tap Takeover by Oak Park Brewing
Saturday Evening, September 18th from 4-9pm: 1 Year Anniversary Specials with music curated by HOF and DJ Abs1er.
Sunday, September 19th from 3-5pm: Paint and Sip with Pastel Rae
The Slim & Husky's co-founders Clint Gray, Derrick Moore and EJ Reed are marking the anniversary of their Oak Park presence with a commitment to community involvement, which started with a "Lunch & Learn" Virtual Session with seniors from Sacramento Charter High School. The event included a virtual lesson on entrepreneurship, where the restaurant's founders shared their story and encouraged the students to get excited about the business world.
"Our story about three friends working together to create this successful restaurant business helps kids connect to the idea of entrepreneurship and think about their future possibilities," said Clint Gray, co-founder of Slim & Husky's. "You can come from humble beginnings like us, but with vision, strategy, and execution, great business goals can be achieved."
Slim & Husky's donated pizzas to Sac High for the students to enjoy after the virtual entrepreneurship session, and on Friday evening the restaurant is donating pizzas to the Sac High football team as the players prepare for a big game against Christian Brothers.
Clint Gray noted, "My partners and I are excited about our one-year anniversary in Sacramento. Opening a new restaurant in the middle of the COVID-19 pandemic was tough, but the Oak Park community has continued to support us through it all. In the coming year we are committed to becoming more active within Oak Park through neighborhood outreach, education initiatives and social events. We hope to see all of our current customers and lots of new faces this weekend to help us celebrate. "
More About this Weekends Activities
Friday Night, September 17th from 5-7pm: Oak Park Brewing will host a Tap Takeover and brewing education at the Slim & Husky's restaurant at 3413 Broadway. Also celebrating the one-year anniversary of their collaboration with Slim & Husky's for the brewery's "West Coast Pream IPA," Oak Park Brewing will be giving away specialty commemoration T-Shirts at the event and pouring an array of their product line on site for attendees to enjoy.
Saturday Evening, September 18th from 4-9pm: Slim & Husky's will be giving off some great vibes on the restaurant's outdoor patio, with music curated by HOF and DJ Abs1er. Slim & Husky's will be offering the $8 "Got 5 on It" Cheese Pizza Special all day, along with a variety of other meal specials and Buy One Get One Alcoholic Drinks to celebrate the new Full Bar in the Oak Park location.
Sunday, September 19th from 3-5pm: Slim & Husky's is teaming up with talented local artist Pastel Rae for a Pizza Paint and Sip event at the restaurant. There will be limited slots for this event, so potential attendees are encouraged to reserve their space early by visiting slimandhuskys.com to RSVP. Sunday musical vibes will be powered by The Social Architects from 4-9pm. Food and drink specials from Saturday will continue all day Sunday.