Sac High Shadow Days Kick-Off!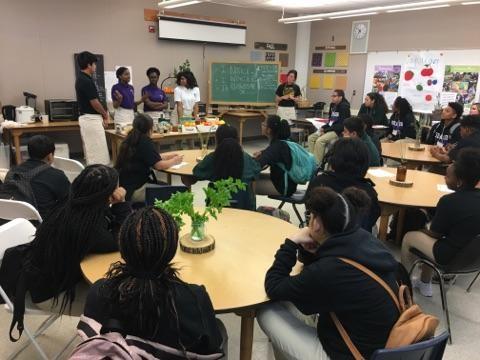 The Sac High Shadow Day Program kicked off earlier this month by hosting eighth graders (Class of 2022) from St. HOPE's very own Oak Park Prep Academy. The Shadow Day Program is a terrific opportunity for interested eighth graders to learn firsthand what it means to be a Sac High Dragon. Shadow Days at Sac High offer a fun and illuminating way to connect with current Sac High scholars, meet diverse leaders on campus and learn about specific courses and programs offered only at Sac High. For participants, Shadow Day visits can lead to powerful observations and insights into life as a Sac High Dragon.
Visiting students are paired with a Sac High scholar to shadow and attend classes with, providing insight into life as a Sac High student. Participants are offered a unique opportunity to visit some of the diverse elective courses and additional programs Sac High provides. College preparation is of high importance at Sac High; therefore, students also visit the College Lab and meet Mr. Marks, the college counselor, who shares tips on how to start preparing for college. Shadow Day participants also learn about College Track, a unique college completion after school program offered only to Sac High Scholars, and other partnerships available to Dragons once they enroll at Sac High.
Sac High will continue hosting Shadow Days for PS7 Middle eighth grade scholars later this month. For any external students interested in Sac High, we invite you to sign-up for a Shadow Day visit by reaching out to the Office of Admissions at (916) 649-7910.