Sac High Class of 2021 Visits Google!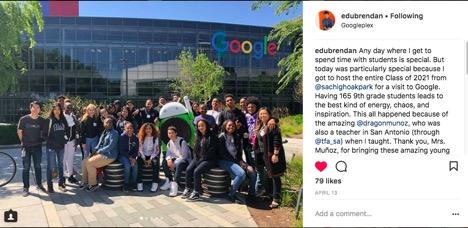 Last month, the entire Sac High Class of 2021 (9th grade) was invited to spend a day at Google headquarters in Mountain View! The Dragons spent the whole day touring the #googleplex with a "Googler", eating a meal from the Google Kitchen, and hearing from a panel of "Googlers" with diverse backgrounds and experiences. This trip was important for our students in that it opened up their minds to the endless possibilities available to them when they pursue and obtain their college degree.
The Dragons also left a tremendous impression on the Googlers. After the visit, Googler Brendan Chan shared via Instagram, "Any day where I get to spend time with students is special. But today was particularly special because I got to host the entire Class of 2021 from @sachighoakpark for a visit to Google. Having 165 9th grade students leads to the best kind of energy, chaos, and inspiration. This all happened because of the amazing @dragonmunoz, who was also a teacher in San Antonio (through @tfa_sa) when I taught. Thank you, Mrs. Muñoz, for bringing these amazing young people to Google! The questions, engagement, and maturity of these students left me and the incredible panelists of fellow Googlers floored."
Cheers to the Class of 2021 aka the next generation of Googlers!