Gregg Popovich Meets St. HOPE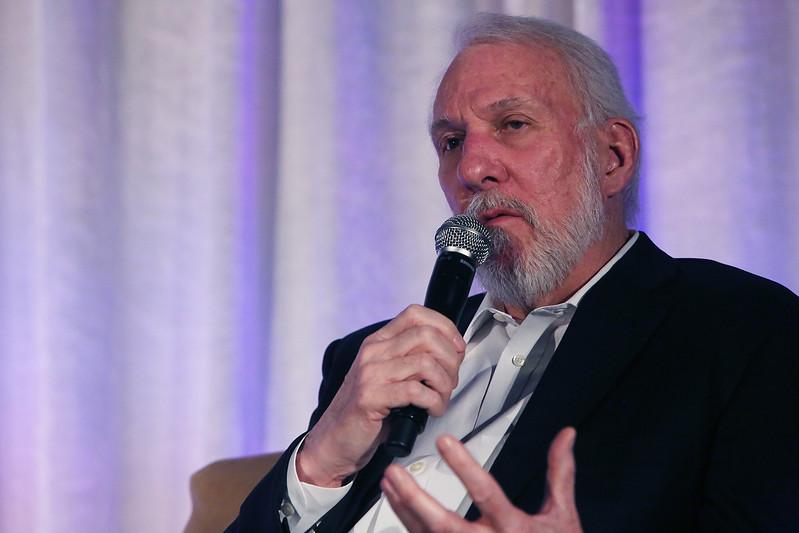 To close out 2017, St. HOPE held its annual fundraiser with a special HOPE for the Holidays Soiree. A capacity audience over 250 people attended the event at the new Kimpton Sawyer Hotel in downtown Sacramento. The soiree featured NBA coaching legend Gregg Popovich, who shared his views, opinions and experiences about a variety of topics.
Unlike traditional St. HOPE Dinners in years past, the Soiree featured a social mixer followed by a short program that included remarks from St. HOPE President & CEO Jake Mossawir, St. HOPE Founder Kevin Johnson, a student presentation of the Beacon of HOPE award, presented to Ron and Maeley Tom, and special musical performances by current and former Sac High students. St. HOPE was also honored to have Ken Rudulph from Good Day Sacramento serve as the event emcee for the evening.
Thanks to the many sponsors including The Johnson Foundation, US Bank, Mark and Marjorie Friedman, Franklin Templeton Investments, AKT Development, The Nagle Companies, and Pacific Coast Building Products, along with several individual guests. St. HOPE is excited to announce that the fundraising goals were exceeded!
To see a full list of the event sponsors, and more highlights from the evening, please visit the event website.