Big Day of Giving to Help Transform the Sac High Library!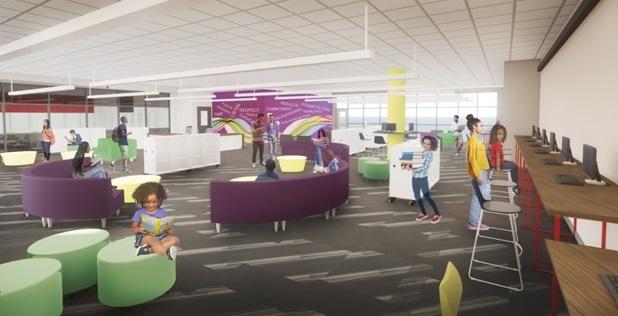 May 3rd marks the Big Day of Giving and for St. HOPE a day of HOPE and anticipation!
While St. HOPE's mission is the revitalization of the Oak Park community through public education and economic development, a majority of our efforts are focused on leveling the academic playing field for young people from the community. St. HOPE currently operates three charter schools serving more than 1,600 students and it is constantly pursuing opportunities to increase its base of support with community partners. St. HOPE's ultimate goal is to be recognized as one of the finest urban preK-12th grade public school systems in America.

In order to reach this ambitious vision, we need as much support as possible from the community, which of course includes financial support. There are countless ways in which additional financial support will be well used to help educate our student body and provide them the same opportunities their counterparts are receiving from schools situated in more affluent neighborhoods. We have however, identified a critical project in need of supplemental funding — the modernization and updating of our high school library (which is also used by both our middle schools).
The library at Sacramento High School is in great need of updating and modernizing. Our goal is to design and redevelop the library to serve as a functional, multi-purpose space for students and staff to effectively engage in work and studies. We have several of Sacramento's most well-known architects and interior designers, Lionakis Architects and Katie Dunham Interior Designs, who are providing their services pro bono to help create a unique space. The proposed concepts will include the purchase and installation of modern individual study and testing carrels, tables, comfortable seating, enhanced lighting, copy machines, multiple printers and new computers. New flooring and paint, along with an updated software catalog with reading material, will complete the space.
In addition, the updated space will greatly increase overall functionality and provide students with a comfortable place to read, gather, study and prepare for exams and class projects, which is conducive to their learning experience. We want our library to be something all students can be proud of. They deserve it!
Please consider donating to our Sac High Library Project this May 3rd! You may visit and pre-schedule your donation on St. HOPE's Big Day of Giving profile OR visit the profile on May 3rd for the 24-hour day of giving! Our students look forward to working with you!
For additional information on the region's biggest nonprofit giving campaign, visit: www.bigdayofgiving.org