Best of Sac High, 2018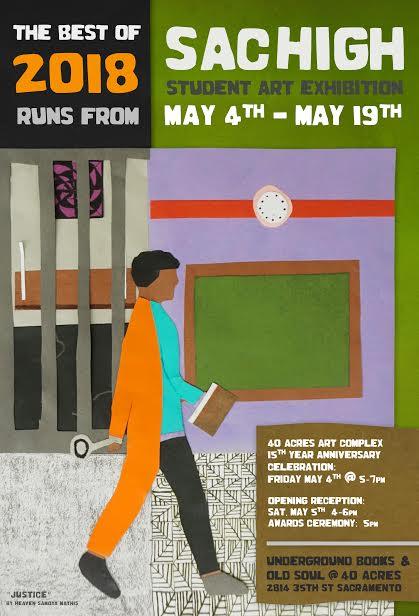 Underground Books and Old Soul were pleased to present the 15th annual "Best of Sac High Student Art Exhibit." The exhibit showcases the school year's best work by students attending Sac High. The exhibit is a board cross-spectrum of talented youth – freshmen to seniors, as well as a diverse representation from the three art pathways on Sac High's campus.
The Best of Sac High is a juried completion of nearly 150 works submitted, of which only 61 were selected for display. The exhibit represents a diverse range of artistic media, including: drawing, photography, painting, and digital print. Criteria for exhibit selection included: demonstrated overall ability in use of medium, clarity in conveying concept, and overall strength of presentation. Exceptional work received special recognition in two-dimensional, photography, and digital art, as well as awards for "Best in Show," "Curator's Choice," "Artist's Choice," "Principal's Choice," and "Student Voice."
Congratulations to all of the artists – their hard work and creative due diligence definitely represents the best of Sac High!
The exhibit will remain up until the 1st of June. Art work is for sale and can be purchased at Underground Books (does not include frame or matting). 100% of the sale goes to the student artist of the piece.