St. HOPE Annual Employee Wellness Fair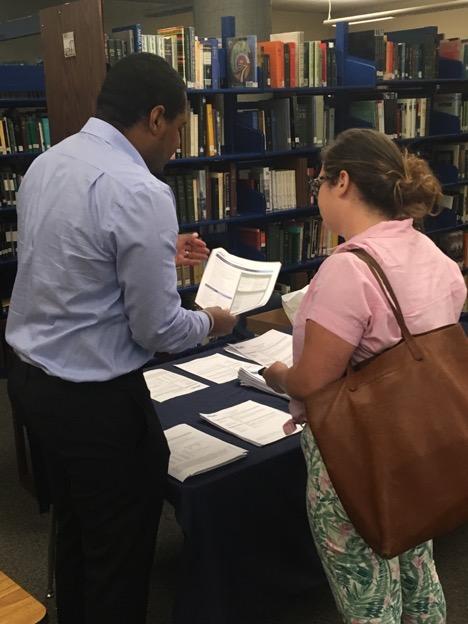 Walking into the dimmed library, staff were greeted with the aroma of fresh fruit and the beat of exhilarating music. In one corner of the room, folks were sharing the benefits of meditation, in another, a barre demonstration was just starting. Samples of detoxifying juices and sunflower butters were passed around while staff worked on a community brainstorming project. This is the St. HOPE Annual Wellness Fair, an event designed for all St. HOPE Public Schools teachers and staff to come together with community partners like California Family Fitness, Pure Barre, Farm Fresh to You, Humani Pilates, Vibe Health Bar, The Sacramento Food Co-Op and so many more who want to support educators in their efforts for self-care and wellbeing.
St. HOPE's community partners often provide perks and discounts to St. HOPE staff, and for this event, they raffled off a number of gift cards, memberships and gift baskets! Daniel Faulkenberry of PS7 Middle won a $25 gift card from Western Health, and a wellness gift basket, and new elementary teacher Mariana Bakkie won a guest pass and belay class to Rocknasium, the climbing gym! Happy Tails Pet Sanctuary, a wonderful animal rescue organization, brought the calming presence of therapy dogs, and Oak Park neighborhood business Capitol Floats donated a free float to our staff. Encouraging and supporting work life balance is a high priority for our HOPE-sters and working together as a greater community within Oak Park and Sacramento, the benefits we have been able to provide our educators is only growing!