Sac High Alumni Spotlight:  Vicki Baugh '07 Alumni
February 8, 2023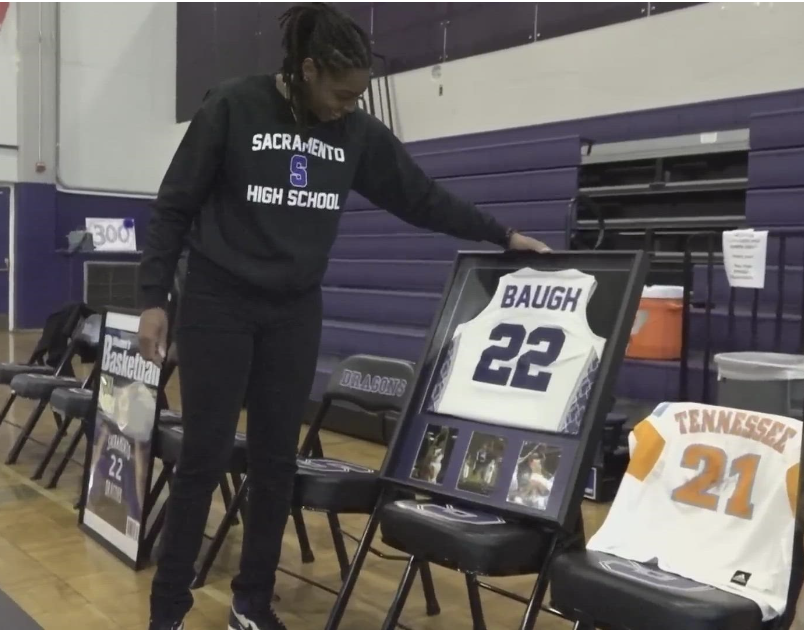 On Senior Night on Wednesday, February 8, the #22 jersey of Sac High alum Vicki Baugh, NCAA women's basketball champion and two-time USA gold medalist, was retired during a pre-game ceremony at Sac High. The exciting event was covered by Fox 40, ABC 10 and CBS Sacramento!
Vicki graduated from Sac High in 2007, selected that year as a First Team All-American by USA Today, Parade Magazine, EA Sports, and McDonald's. As a senior, she averaged 17.6 points, 12.2 rebounds, 2.9 assists, 2.1 steals, and 3.4 blocks per game, leading the Dragons as a 6'4" point guard to a 29-4 record and the Northern California Division III final.
"It's cliché to call a great athlete an inspiration, but by her play and personality, Vicki really was—to her Sac High teammates and to future Dragons," said Michele Massari, who in her 16th season as head coach of Sac High's varsity girls basketball team, recently won her 300th career game. "I'm so proud to get to see Vicki's jersey retired, and to see her legacy properly cemented here, for all time."
Recruited out of Sac High on a full scholarship to the University of Tennessee by iconic head coach Pat Summitt — who over 38 seasons at UT accrued 1,098 career wins, the most in college basketball history at the time of her retirement in 2012 — Vicki won the 2008 NCAA women's basketball title as a freshman, though she tore her left anterior cruciate ligament (ACL) during the championship game. Vicki would go on to play four seasons for the Lady Vols, despite again tearing her left ACL her sophomore year and missing the 2009-10 season, while earning a B.A. in Psychology and an M.S in Kinesiology and Sport Psychology.
Vicki was selected in the 2012 WNBA Draft by the Tulsa Shock, and appeared in 78 games over three WNBA seasons, two with the Shock and one with the San Antonio Stars. Vicki also played professionally for nine years overseas, completing four seasons in South Korea and five seasons in Europe.
A two-time Sacramento Area Player of the Year, Vicki totaled 1,870 points, 1,222 rebounds, 273 assists, 208 steals, and 300 blocked shots over four varsity seasons at Sac High. In international competition, she earned gold medals as a member of the 2007 USA U19 World Championship team, and the 2006 FIBA Americas Championship team.
On February 8, Vicki joined former All-NBA point guard and Mayor of Sacramento Kevin Johnson as the only Sac High alums to have their Dragon jerseys retired.