Hey YOU…Come to our NEW PARK!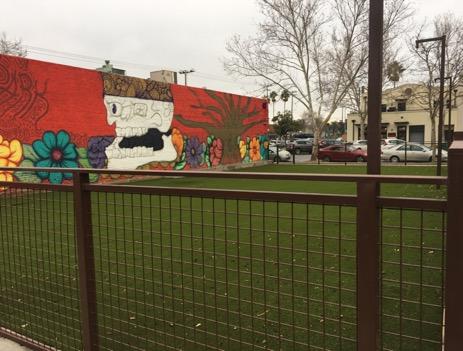 The 3rd Avenue lot near St. HOPE's 40 Acres Complex was once the site of Esther's Pastry Shoppe, a two-story mixed use building constructed in 1915 that provided Oak Park residents with freshly baked goods through much of the 1900's. By the time the historic building was acquired by St. HOPE Development Company in the late 1990's, it was in a state of disrepair and in need of major funding before it could be restored. In 2018, the badly deteriorated building was deemed uninhabitable and was therefore demolished.
After just a few months, St. HOPE transformed the empty, fenced up parcel into a newly landscaped park appropriately named "Esther's Park". St. HOPE's latest addition to the culturally rich Oak Park neighborhood was constructed to add to the continuing growth and diversity of the community. Esther's Park now provides another gathering place for users to host events, celebrate special occasions, and support the local economy.
To inquire about having an event at the new Esther's Park, please contact manager@guildtheater.com.