The Guild Theater's Fresh New Look!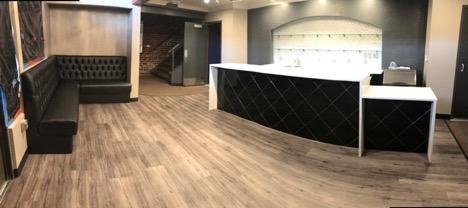 The Guild Theater, originally known as the Victor Theater, was designed and completed in 1915. At that time, it featured movies and vaudeville shows for the community.
The theater eventually fell into a state of disrepair and remained vacant for many years. In 2003, St. HOPE updated and restored the Guild Theater to showcase plays, movies, live performances, and more.
During the past 16 years, the Guild Theater has hosted many programs, and more recently, the new Guild Theater team has produced many in-house events and developed a vision to make it more welcoming to the community.
Although the lobby was in good shape, and included a concession stand, ticket booth, and two restrooms, the Guild Team decided to make a few changes. The Guild Theater lobby not only has a new modern look with a fresh coat of paint and new flooring, but it also has a better functioning bar, new lighting, and most importantly, plenty of seating in the lobby for our guests to relax and enjoy their time before, during, and after the show.
We plan on making a few more changes over time to make our overall theater look and function better so stay tuned to see what we have in store. For now, make sure you come by and take a look at the new, improved beautiful lobby at The Guild!