// VIBration \\ Featuring SOL DEVELOPMENT + MINO YANCI LIVE from The Historic Guild Theater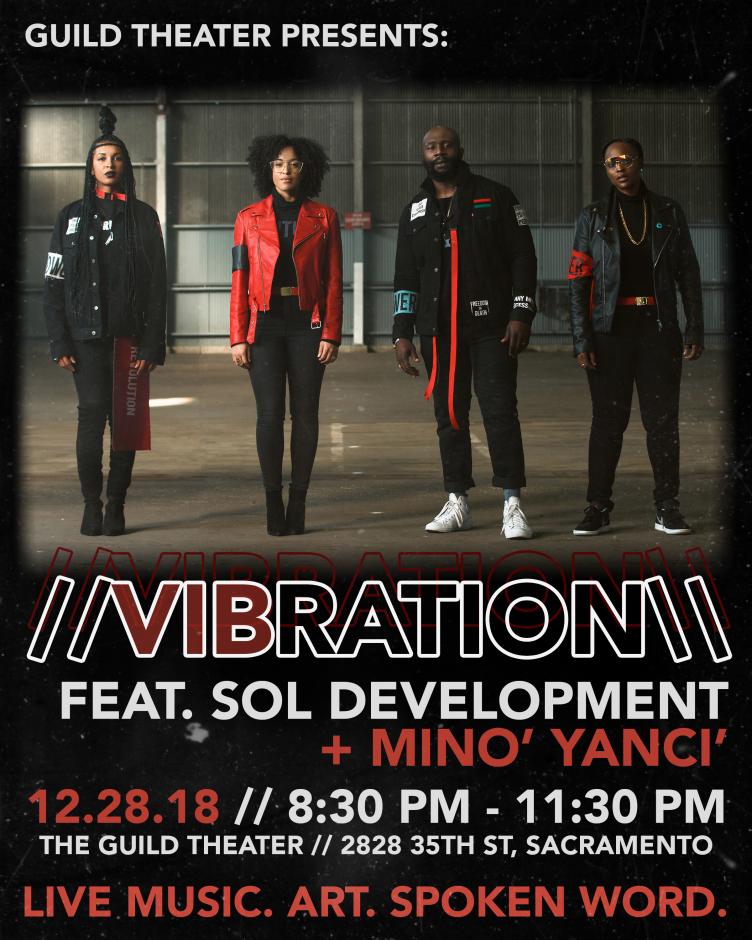 Entry: All Ages
Time: 8:30PM Door 9:00pm Showtime
ABOUT:
SOL DEVELOPMENT
SOL Development (Source of Light), mirrors Nina Simone's quintessential words: an artist's duty is to reflect the times. The band offers music to illuminate today's cultural and political climate, matching it with a sound that allows the listener to feel empowered in finding their own activism and healing.

Performing on stages across the country, SOL Development delivers hope-filled messages sonically and visually, representing stories that uplift the narrative of freedom while encouraging self-expression and personal growth. Audiences who have witnessed their dynamic live performance include SXSW, Broccoli City Festival, Black Joy Parade, Blue Note NYC, Stern Grove Festival, Oakland Museum of California and Blackout for Human Rights: MLK Now. They have shared the stage with Common, India Arie, GZA, Jidenna, Femi Kunti and many more.

MINO YANCI The foundation of this group comes from the name "Mino Yanci" which means "musical freedom." The four-piece band makes music that represents who they are and what they stand for, while taking listeners on an incredible musical journey. They've toured to SXSW, played the San Jose Jazz Festival and preformed at SF Jazz. Take a journey with Mino Yanci and some special guest features.
****
About the Guild Theater

Est. 1915The Guild Theater is a nonprofit theater managed by St. HOPE Academy, a nonprofit community development corporation whose mission is to revitalize inner-city communities through public education and economic development. Established in 1989 by NBA All-Star and Oak Park native Kevin Johnson, St. HOPE educates, trains and empowers citizens to change the landscaped of low-income areas, beginning with the Oak Park neighborhood in Sacramento, California.The Guild Theater is the only remaining theater of the numerous early 20th century motion picture houses for which Oak Park was once known. Designed and financed by Joseph Lewis and completed in 1915, it was the largest of three theaters on 35th Street in Oak Park at that time. Originally called the Victor Theater, the building's structure reflected the influence of the Moorish Revival on theaters of that era.For many decades, the Guild Theater was a premier entertainment destination and in its earliest days played host to vaudeville shows. The theater eventually fell into a state of disrepair and remained vacant for many years. St. HOPE has updated and restored the Guild Theater in 2003 and currently showcases film, lectures and live performances.The Guild Theater has been restored and renovated, but maintains its historic charm and is a perfect venue for corporate events, plays, concerts, trainings, movie screenings, weddings and more.The venue has an open front lobby area with both a ticket counter and concession stand. The 200-seat theater has exposed brick interior walls showcasing contemporary art.
Purchase your tickets at https://www.eventbrite.com/e/vibration-featuring-sol-development-mino-yanci-live-from-the-historic-guild-theater-tickets-53568152787?aff=ebdssbdestsea