Three Mothers Virtual Book Discussion with Authors Anna Malaika Tubbs and Julie Lythcott-Haims
Underground Books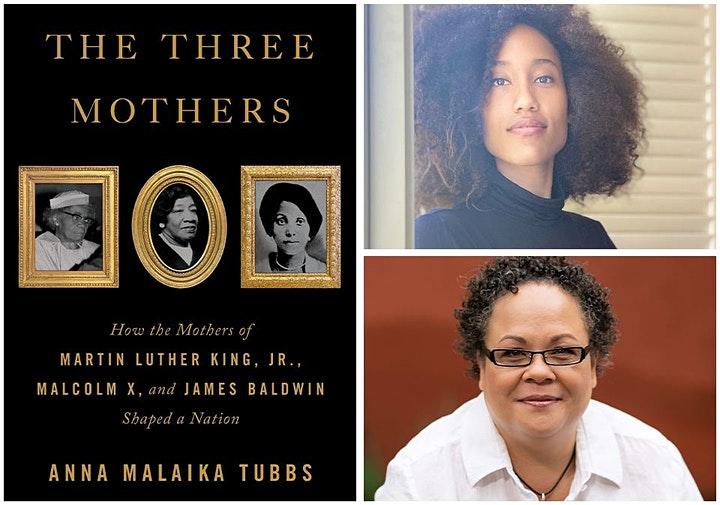 Wednesday, January 27, 2021
12 pm via zoom
THE THREE MOTHERS: How the Mothers of Martin Luther King, Jr., Malcolm X, and James Baldwin Shaped a Nation
Author Anna Malaika Tubbs, in conversation with Julie Lythcott Haims, will introduce readers to Alberta King, Berdis Baldwin and Louise Little, three Black women born at the beginning of the 20th century. Much has been written about their famous sons, Martin Luther King Jr., Malcolm X, and James Baldwin. Precious little has been written about the women themselves, their families and early childhoods, the men they loved and lost, the joys and pains of raising their children in a cruel and violent country, and the resilience and the resistance of being black women in America. THE THREE MOTHERS represent a piece of history left untold and a celebration of Black motherhood long overdue.
Anna Malika Tubbs is a Ph.D. candidate in Sociology at Cambridge University, where she also earned an MA in Multidisciplinary Gender Studies. Her undergraduate degree in Anthropology is from Stanford University. A passionate writer and speaker on issues of gender and race, Anna is an educator and a diversity, equity, and inclusion consultant. Anna has written for For Harriet, Darling Magazine, Huffington Post, and Blavity. As the first partner of Stockton, California (2016–2020), she co-authored the first Report on the Status of Women in Stockton. Anna was born in Albuquerque, New Mexico and spent her childhood in Dubai, Estonia, Sweden, Mexico, and Azerbaijan. She lives in Northern California with her husband Michael and their son Michael Malakai.
Julie Lythcott-Haims believes in humans and is deeply interested in what gets in our way. She is the New York Times bestselling author of the anti-helicopter parenting manifesto How to Raise an Adult. Her TED Talk on the subject has more than 5 million views, and in 2020 she became a regular contributor on CBS This Morning on parenting. Her second book is the critically-acclaimed and award-winning prose-poetry memoir Real American, which illustrates her experience as a Black and biracial person in white spaces. A third book, Your Turn: How to Be an Adult, will be out in April 2021. Julie lives in the San Francisco Bay Area with her partner of over thirty years, their young adults, and her mother.
Please RSVP
https://www.eventbrite.com/e/the-three-mothers-author-anna-malaika-tubbs-and-julie-lythcott-haims-tickets-133618288899