Summer Concert Series Featuring Troop
Guild Theater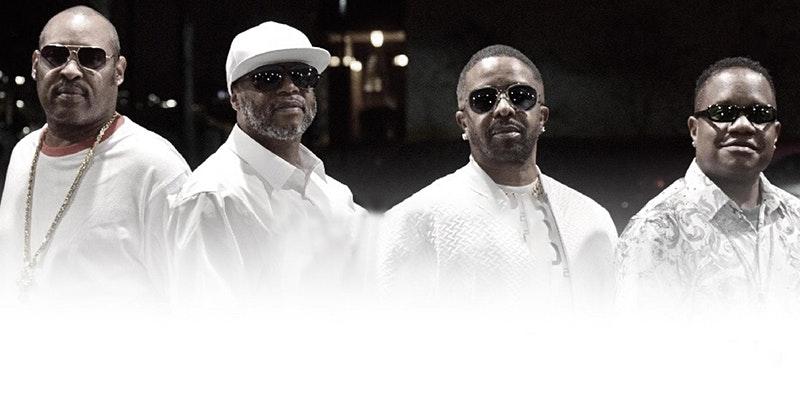 Troop is coming to Sacramento!
About this event
Come join us at The Guild Theater to watch Troop (Band) an American R&B group from Pasadena, California, United States.
****
Entry:
ALL AGES
Time:
7:00 PM Door
8:00 PM Showtime
****
Troop (Band) BI0:
Troop is an American R&B group from Pasadena, California, United States. The group has had three number-one singles and ten top-ten singles on the Billboard R&B Singles chart. They have also completed five albums, which include three certified gold and one certified platinum album. TROOP is an acronym for "Total Respect Of Other People". The group is most notable for a series of number-one R&B hits, including popular cover versions of the songs "All I Do Is Think of You" and "Sweet November", originally performed by musical acts The Jackson 5 and The Deele, respectively. They also had a number-one hit with the original song "Spread My Wings".
The group got its start in the late 1980s after they won a televised Puttin' on the Hits talent contest that later drew interest from record labels. Troop, consisting of childhood friends Steve Russell, Allen McNeil, John Harreld, Rodney Benford, and Reggie Warren, soon signed to Atlantic Records and released their debut single "Mamacita" from their self-titled debut album in 1988. "Mamacita" reached Number 2 on the Billboard's R&B Chart.
Troop's second album Attitude included the hit singles "Spread My Wings" and "All I Do Is Think of You" (a Jackson 5 cover), which were both number one on the Billboard R&B singles chart, and remained in the top 10 for several weeks. Attitude was certified platinum in 1990. Their third album Deepa was released in 1992, from which the single "Sweet November" made number one on the Billboard R&B singles chart. The group followed up Deepa with two more albums, A Lil' Sumpin' Sumpin' (1994) and Mayday (1998), both of which were re-released in 2005.
After the release of Mayday in 1998, Troop took a hiatus as individual members worked behind the scenes on various writing and producing projects, collaborations, and other business endeavors.
In 2004 Troop regrouped and began touring the United States and finishing up their sixth album. Since returning, Troop has headlined a number of shows and also shared the stage with artists they had toured with in the past, such as Boyz II Men, Brian McKnight, Keith Sweat, Silk, Mario, and Jon B..
Troop have also been showcased on The Late Show with David Letterman, Soul Train, The Arsenio Hall Show, It's Showtime at the Apollo, and appeared in the feature film New Jack City singing a cappella. Additionally, the group appeared on the New Jack City soundtrack with Queen Latifah and Levert, in a medley featuring cover versions of The O'Jays' "For the Love of Money" and Stevie Wonder's "Living for the City".
In October 2006, Troop contacted the Internet Radio Station The Mixx and have worked together to make The Mixx the radio home of Troop. Steve Russell dubs the singing voices of several minor characters (among them doo-wop singer Little Albert and the five brothers who make up the Jackson 5 pastiche "The Campbell Connection") in the 2006 film version of the Broadway musical Dreamgirls. Steve Russell also wrote "Take You Down" for Chris Brown, "No Air" for Jordin Sparks, and the Grammy Award-winning "Invisible" for Jennifer Hudson. In February, 2010 he released his debut solo CD titled So Random, which is the first release from his own label Motel Music Media. Allen McNeil released his debut solo album Hybernation in January, 2010. Allen McNeil released his sophomore solo album Send For Me in November, 2011. In addition to releasing music, Allen McNeil is said to have been auditioning for acting roles and accepting scripts. In 2014, John "Jon Jon" Harreld announced that he would be working on a solo project, and released a single covering Luther Vandross' "Never Too Much", which should also appear on the project.
****
About the Guild Theater
Est. 1915
The Guild Theater is a nonprofit theater managed by St. HOPE Academy, a nonprofit community development corporation whose mission is to revitalize inner-city communities through public education and economic development. Established in 1989 by NBA All-Star and Oak Park native Kevin Johnson, St. HOPE educates, trains and empowers citizens to change the landscaped of low-income areas, beginning with the Oak Park neighborhood in Sacramento, California.
The Guild Theater is the only remaining theater of the numerous early 20th century motion picture houses for which Oak Park was once known. Designed and financed by Joseph Lewis and completed in 1915, it was the largest of three theaters on 35th Street in Oak Park at that time. Originally called the Victor Theater, the building's structure reflected the influence of the Moorish Revival on theaters of that era.
For many decades, the Guild Theater was a premier entertainment destination and in its earliest days played host to vaudeville shows. The theater eventually fell into a state of disrepair and remained vacant for many years. St. HOPE has updated and restored the Guild Theater in 2003 and currently showcases film, lectures and live performances.
The Guild Theater has been restored and renovated, but maintains its historic charm and is a perfect venue for corporate events, plays, concerts, trainings, movie screenings, weddings and more.
The venue has an open front lobby area with both a ticket counter and concession stand. The 200-seat theater has exposed brick interior walls showcasing contemporary art.
****
Location:
The GUILD Theater
2828 35th St, Sacramento, CA 95817