Silent Night Disco Party
First Fridays Oak Park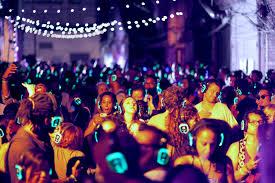 Join us in the new Esther's Park for a Silent Night Disco Party every First Friday between May – September. This fun outdoor venue is ideal for your next birthday party, date night or girls night out!
How it works:
When you arrive you'll receive a pair of special wireless headphones. You can adjust the volume and choose between up to three DJ's with a flip of a switch. Each headset has a color LED that shows what channel you are listening to. It's super social; you're in control of the music! There's no loud music that you have to talk over. Plus, there's no ringing in your ears when you leave!
3 live DJs are spinning all your favorite beats between 6pm-9pm.
Admission includes:
• A pair of Silent Night Events headphones
• Unlimited dance space
• 3 live DJ's battling for your attention
• Outdoor bar
Special notes:
• First 100 guests are free!
• Must bring valid ID to check out headphones
• Children are welcome