Poetry Night at the Guild Theater
Guild Theater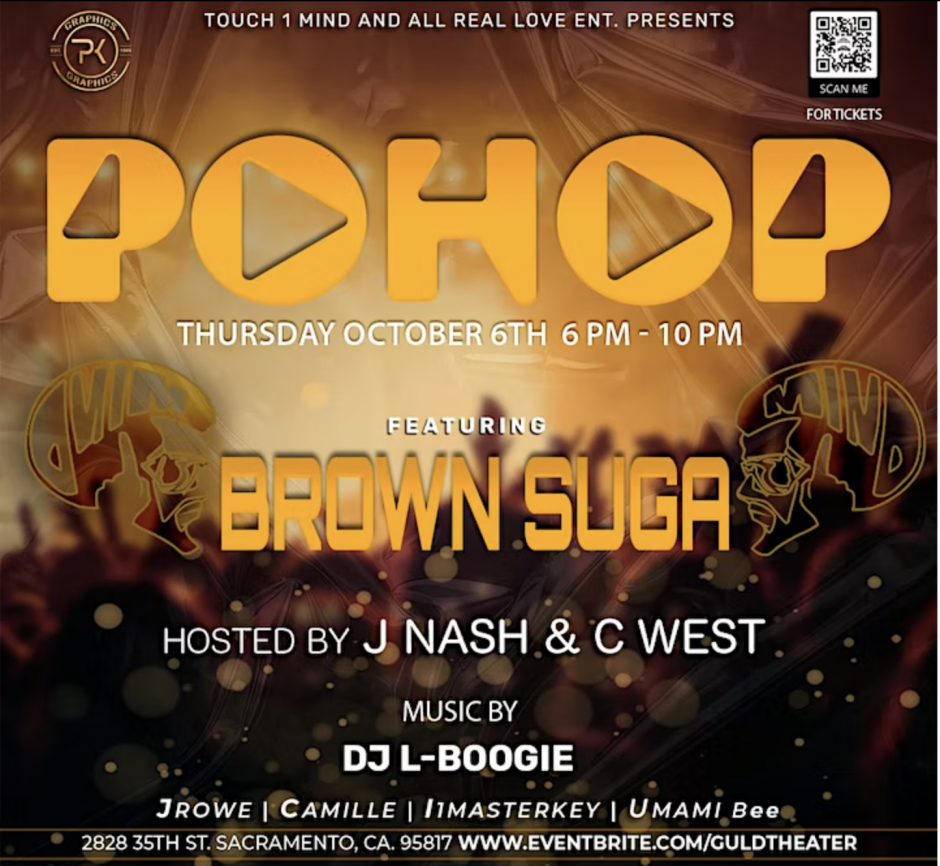 About this event
Poetry Night At The Guild Theater
Hosted By:
****
Time:
Doors Open at 7:00 PM
Showtime at 8:00 PM
****
****
Refund Policy
No Refunds
****
Poets Info:
BROWN SUGA (916FOOTA)
ARTIST POET,SINGER, RAPPER, ACTIVIST BORN & RAISED IN SACRAMENTO CA. WITH THE ENCOURAGEMENT FROM HER GRANDMOTHER BROWN SUGA BEGAN PERFORMING AT THE AGE OF 7YRS OLD AT PARADISE CHURCH (SAC. CA). GROWING UP IN THE CRACK ADDICTED 1980'S BROWN KNEW FROM
EARLY ON TO TURN HER PAIN INTO POETRY & MUSIC. INSPIRED BY THE LAST POETS SHE BEGAN PERFORMING SPOKEN WORD /RAPPING IN HIGH SCHOOL. IN THE EARLY 2000'S SHE BEGAN RECORDING POETRY/HIP-HOP & TOURING ALL OF THE UNITED STATES WITH HER GROUPS PO-HOP & THE WISH. AFTER RELEASING HER DEBUT ALBUM "STYLES OF A GROOVY CHICK" IN 2002, "JIMMIE DALE DAUGHTER IN 2006 & "QUEEN KONG" IN 2012 KEPT HER ON THE ROAD CONSTANTLY.
BROWN OPENED UP FOR SCARFACE, E40, TECH N9NE, SUGA FREE, RAHSAAN PATTERSON & COLLABORATED ON COUNTLESS ALBUMS & SOUNDTRACKS WITH ARTISTS SUCH AS SCARFACE, DOEY ROCK, BROTHA LYNCH MARVELOUS & MANY OTHERS.
BROWN SUGA HAS ALSO APPEARED ON GOOD DAY SACRAMENTO PERFORMING HER HIT SONG "TIP IT UP". SHE'S RELEASED NUMEROUS VIDEOS & YOU CAN FOLLOW HER ON TIK TOK, SNAP CHAT & INSTAGRAM OR YOU CAN LISTEN TO HER MUSIC ON EVERY STREAMING PLATFORM @ BROWN SUGA 916FOOTA
Camille Janae : is a Sacramento native, poet, and entrepreneur. She's been sharing her poetry on stages since 2009, performing throughout Northern California and competing in a select few slams. Her work addresses subjects like love, the Black experience, and womanhood. She hopes to continue inspiring Black women and others through her words.
Jeanette Rowe (J.Rowe): hails from the Golden Coast of California. She has traveled the U.S. to feature and open for other artists like America's Got Talent Season 15 Winner Brandon Leake and Buddy Wakefield.
J.Rowe draws artistic inspiration from being in nature and from artists like Saul Williams and Lauryn Hill. She often writes about the evolution of love, identity and humanity. She hopes to provoke thought and encourage others to speak their truth through her poetry. Besides performing, Jeanette facilitates writing workshops and discussions revolving around diversity, equity and education.
Keon Johnson : who performs using the byname ilMasterKey or il, is a talented and passionate creative. Keon is a performing artist (rap music), poet, youth counselor, educator, culture-curator, who uses his various platforms to serve as a community change agent. He believes in using his voice as an instrument to tell stories and create audio-visualizations of the lived experiences of Black life. I1 MasterKey is intentional about contributing to social commentary from his own lens as a Black man with the hope that his talents and crafts serve as a tool to educate, uplift, and inspire positive change in Black Life.
Pioneering Own Halos Of Philosophies