Oak Park Speaker Series: Dr. Julius Garvey
Underground Books + Guild Theater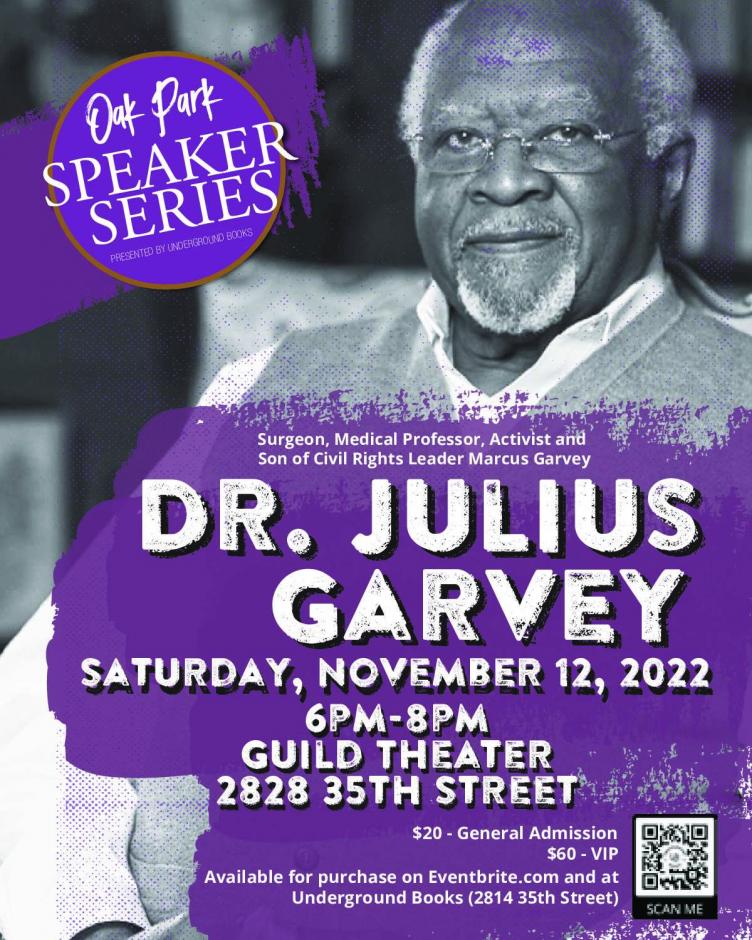 EVENT SCHEDULE:
5:00 PM – VIP early access
5:30 PM – Doors open
6:00 PM – Program begins
7:00 PM – VIP Reception
****
GUEST SPEAKER:
Dr. Julius W. Garvey
Surgeon and Medical Professor
Founder of Justice4Garvey
Join us for Dr. Garvey's second visit to Oak Park, Sacramento on November 9. Earlier this year in September, Dr. Garvey screened "Whirlwind: The Marcus Garvey Story" and participated in a panel discussion at the inaugural Oak Park Black Film Festival.
Dr. Julius W. Garvey was born on September 17, 1933 in Kingston, Jamaica to United Negro Improvement Association founder Marcus Garvey and activist Amy Jacques Garvey. The younger of two sons, Garvey was raised in Jamaica.
Dr. Garvey has spent his life trying to clear his father's name. Marcus Garvey, who led an international movement to support unity and economic development in the Black community through the Universal Negro Improvement Association (UNIA), was imprisoned in 1925 for mail fraud and deported back to Jamaica in 1927. Through the "Justice4Garvey" campaign, Dr. Garvey has launched an international effort to gain support for a posthumous presidential pardon.
****
*******
ABOUT THIS EVENT
By purchasing tickets to any event, you are authorizing this charge and acknowledging our terms and conditions below. ALL SALES ARE FINAL, unless an event is cancelled by the artist or venue. There are no refunds, transfers or exchanges. This event is open to all ages. All seating is on a first come first served basis.. Resale is not permitted, and the venue has the right to cancel or deny entry to anyone suspected of resale or suspected of buying resold tickets. Venue reserves the right to resell tickets of any person/party who has not been seated by scheduled show time; no refunds will be issued. Valid Photo ID and Credit Card used for purchase must be presented to pick up tickets. Tickets will not be released to anyone other than the purchaser unless prior arrangements have been made. Venue is a non-smoking and non-vaping property. Management reserves the right to deny and refuse entry to or remove parties who may be deemed a distraction to other guests (including, without limitation, appearing intoxicated or not abiding by venue policies).
Upon entry of the venue, (i) you hereby and irrevocably grant the venue owner, and its parent(s), affiliates, subsidiaries, licensees, successors and assigns (collectively, "Owner") the right to photograph, record, film and otherwise capture your image, voice and likeness (collectively, "Footage") and to own, license, assign and/or use the Footage (and/or any portion thereof) in perpetuity, throughout the world in any and all media including, without limitation, in connection with any productions, programming, advertising and promotion, subject in all respects in Owner's sole discretion.