Juneteenth Block Party
40 Acres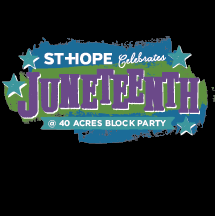 The first annual 40 Acres Juneteenth Block Party is a day long FREE celebration of activities filled with art, music, food and entertainment in and around the 40 Acres Complex in Oak Park.
Become a Vendor (SOLD OUT!)
FAQ
WHERE IS IT? 40 Acres is located on the intersection of 35th Street / Broadway in Oak Park.
WHAT TIME DOES IT START AND END? The event opens at 10am with main stage activities and vendors. The block party will conclude at 5pm.
WHERE SHOULD I PARK? Free parking is available in Sac High Gym parking lot located at 2315 34th Street. Free street parking is also available throughout Oak Park.
DO I NEED A TICKET? Tickets will not be checked upon arrival so no need to print or bring with you.
WHAT SHOULD I BRING? It's predicted to be very hot so bring water to stay hydrated. Water and drinks will also be available for sale from different vendors.
EVENT ACTIVITIES
MAIN STAGE
The Main Stage will be located in the heart of the block party and filled with programming hosted by DJ Supe and Emcee Dru Burks. The entertainment filled day includes children's programming, giveaways, cultural performances, gospel choirs, a Juneteenth talent contest, a barbershop haircut contest and featured musical performance by the "Remembering James Brown" musical group.
STREET VENDORS
Both Third Avenue and the 40 Acres parking lot will be lined with black owned street vendors featuring apparel, crystals, candles, bath & body, comics books and more! Food vendors will also be serving up chicken, hot links, tacos and desserts!
ART ALLEY
The 40 Acres Alley will be closed to traffic and feature interactive activities for all to enjoy. Several artists will feature their art work in the art tent while guests participate in the making of a unique Juneteenth paint by numbers art project and giant mural that can be left as a landmark for the day.
SHORT FILMS @ GUILD THEATER
The historic Guild Theater @ 40 Acres will feature several short films throughout the day with a full concession stand. All films are free and family friendly!
ESTHER'S PARK WINE AND BEER GARDEN
The ever popular Esther's Park @ 40 Acres will be transformed into a wine and beer garden featuring black-owned wineries and breweries. Guests over 21+ can lounge in the garden and enjoy $2 tastings of the latest spirits or support by purchasing a glass or bottle.
SCHEDULE OF EVENTS
10:00AM DJ SUPE AND EMCEE COMEDIAN DRU BURKS
10:45AM KIDS ACTIVITIES FEATURING SACRAMENTO KINGS SLAMSON APPEARANCE, STORYTIME, DRUM CIRCLE & GIVEAWAYS
11:30AM GOSPEL CHOIR PERFORMANCES BY ST. PAUL BAPTIST CHURCH, BAYSIDE CHURCH & GENESIS CHURCH SACRAMENTO
12:30PM CULTURAL DANCE PERFORMANCES
1:30PM BARBERSHOP WARS HAIRCUT CONTEST
2:00PM JUNETEENTH TALENT CONTEST
3:00PM REMEMBERING JAMES BROWN MUSICAL PERFORMANCE