Indivizible Speaker Series: IndivizibleX
Guild Theater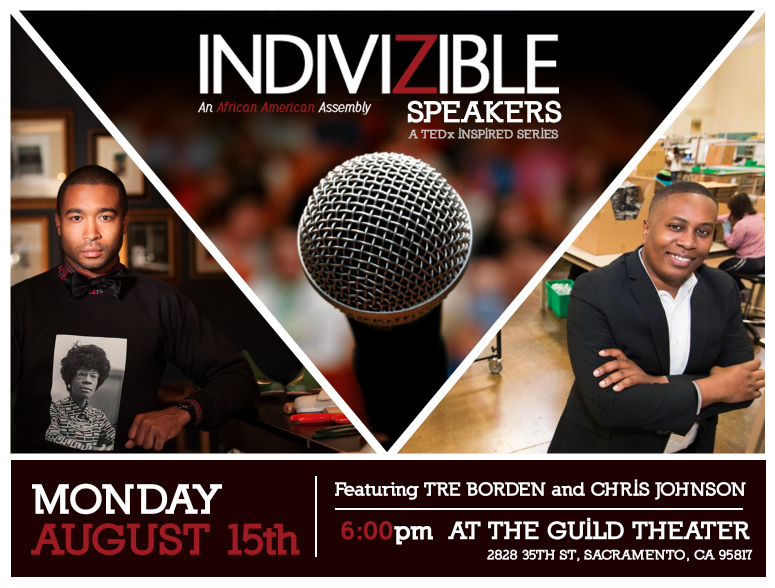 GUEST SPEAKERS: TRE BORDEN AND CHRIS JOHNSON
This month's Indivizible meeting is a TEDx inspired event featuring local entrepreneurs, Tre Borden and Chris Johnson.
Tre Borden, a California-based placemaking consultant and producer, graduated from Yale College and went on to launch a tailoring company that linked college students and east-Asian tailors.
Tre returned to California and completed his MBA at the UCD Graduate School of Management, focusing on entrepreneurship and clean-technology. After reconnecting with his childhood friend, artist Danny Scheible, Tre decided to return to his creative and entrepreneurial roots, co-founding Tapigami, a new art form developed by Scheible. Together they brought the innovative tape-based art to venues such as Maker Faire, The W San Francisco, The California Museum, and to a successful Kickstarter funded project for Tapigami-Hacker Glasses in 2013. Tre also helped launch FLYWHEEL, a business incubator for creative talent in Sacramento in spring 2012.
Most recently, Tre has brought his relationships with local artists and eye for placemaking as the curator of the Warehouse Artist Lofts, a new mixed-use housing project which houses over 200 local creatives and features two dozen permanent, site-specific installations including two from LC Studio Tutto. He is also the Co-Producer and Project Manager for PORTAL, a temporary activation of the R Street block adjacent to the IceHouse development site.
Tre is excited to build upon these experiences as he continues to work on several innovative projects including his most recent collaboration Bright Underbelly.
Christopher Johnson is the Founder and CEO of The Johnson Group, Inc. a corporate recruiting company and the Inventor of the Rapid Ramen Bowl which was successfully pitched to ABC's Shark Tank. The company serves as an internal recruiting partner for its clients eliminating expensive placement fees. His firm has experienced over 327% growth and was recognized as the 7th fastest growing company in the Sacramento Area by the Sacramento Business Journal. He has been recognized by Sacramento Business Journal as one of the "40 under 40" and by Black Enterprise Magazine as one of the "40 Next", and has recieved the Sacramento Black Chamber of Commerce Small Business of the Year Award. The Johnson Group was recognized as Small Business of the Year by Mayor Elect Darrell Steinberg.
Chris and The Johnson Group, Inc. have been very active in the community. The Johnson Group, Inc. has supported the efforts of Big Brothers & Big Sisters, Rotary of Sacramento, Sacramento Area Emergency Housing Centers (SAEHC), Boys & Girls Club of America, and Safe Haven, Inc. Over the last 14 years, Chris has coached thousands of kids in the Elk Grove and Sacramento Area. In March of 2010, he started Chris Johnson Basketball Academy, (CJBA). Under Chris' leadership, CJBA impacts over 500 kids per year through its basketball camps, monthly academy, aau program, and clinics.