Comedy Night at the Guild Theater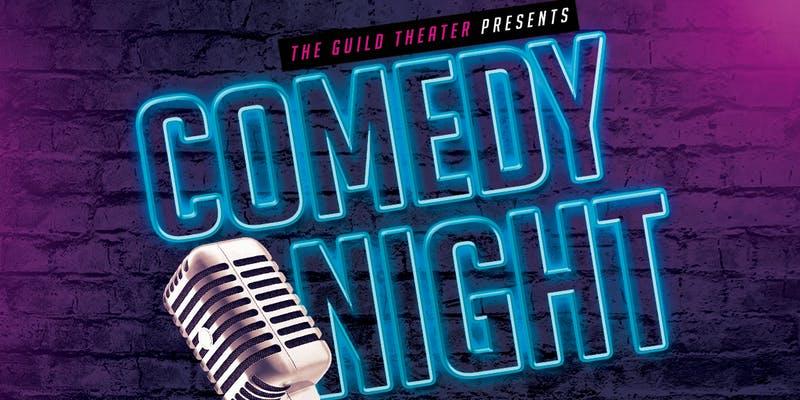 Description
Comedy Night At The Guild Theater
Hosted By: Comedian Dru Burks
Comedian Info:
Comedian : Steph Sanders is a multi-faceted Comedian/Actor with a fresh energy and raucous material for everyone to enjoy! Originally from Dayton, Ohio and thrown into a steady diet of acting, dance, musical instruments, and sports from an early age gave him his thirst for the stage and screen. A professional stand-up comic for over 10 years now, this gives him a regular platform to bring his life, pain, and characters to thousands nightly! Steph has been blessed enough to work with most of the heavy hitters in the comedy business such as Patrice O'Neal, Gary Owen, Tony Roberts, and many, many more. He has appeared in several shows on BET, MTV, and ABC as well as several affiliate news/entertainment shows. Look out for Steph on the small and large screen as he continues to take the entertainment world by storm!
Comedian : Regina Givens the crazy sexy cool animated standup comedian who brings everyday life to lite with hilarious improv expressions 10yrs and rising in the comedy world. A Host of A Toucha Class nor cal hottest underground open Mic/show case.
(Headliner): Vanessa Fraction is one of the most vivacious and talented comedians working today. As a stand up, her performances have been featured on Nick Jr.'s Nick Mom Night Out, Mike Epps' Live at Club Nokia, HBO's Def Comedy Jam, BET's Comic View, STARZ' Martin Lawrence's 1st Amendment Stand up, and more.
Comedian Dru Burks (Host): A comedian born and raised in Sacramento, CA. He has been in the comedy game since 2013, and worked with the likes of Paul Mooney, Pierre, Scruncho, Mark Curry and many more!
****
Time:
7:00PM Door
8:00PM Showtime
****
About the Guild Theater
Est. 1915
The Guild Theater is a nonprofit theater managed by St. HOPE Academy, a nonprofit community development corporation whose mission is to revitalize inner-city communities through public education and economic development. Established in 1989 by NBA All-Star and Oak Park native Kevin Johnson, St. HOPE educates, trains and empowers citizens to change the landscaped of low-income areas, beginning with the Oak Park neighborhood in Sacramento, California.
The Guild Theater is the only remaining theater of the numerous early 20th century motion picture houses for which Oak Park was once known. Designed and financed by Joseph Lewis and completed in 1915, it was the largest of three theaters on 35th Street in Oak Park at that time. Originally called the Victor Theater, the building's structure reflected the influence of the Moorish Revival on theaters of that era.
For many decades, the Guild Theater was a premier entertainment destination and in its earliest days played host to vaudeville shows. The theater eventually fell into a state of disrepair and remained vacant for many years. St. HOPE has updated and restored the Guild Theater in 2003 and currently showcases film, lectures and live performances.
The Guild Theater has been restored and renovated, but maintains its historic charm and is a perfect venue for corporate events, plays, concerts, trainings, movie screenings, weddings and more.
The venue has an open front lobby area with both a ticket counter and concession stand. The 200-seat theater has exposed brick interior walls showcasing contemporary art.
****
Location:
The GUILD Theater
2828 35th St, Sacramento, CA 95817