Comedy Night at the Guild
Hosted by Comedian Dru Burks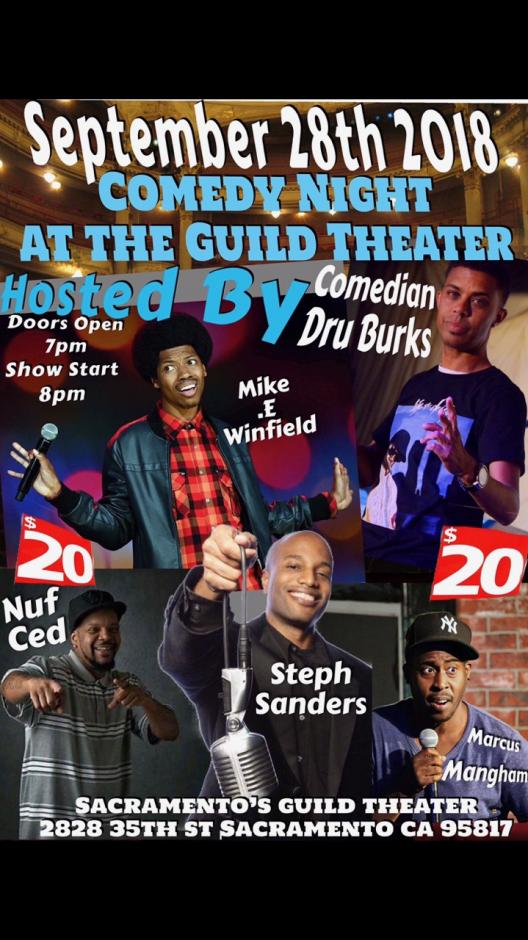 Comedy Night at the Guild Theater Hosted by Comedian Dru Burks and featuring Mike E. Winfield, Marcus Mangham, Stephs Sanders and Nuf Ced.
Doors open at 7pm, Show starts at 8pm
Click here for more information and to purchase tickets.
Comedian Info:
Mike E. Winfield: a stand up comedian, and an actor. He is known for his hilarious roles in tv series,Conversations in L.A. (2016), The Bobby Lee Project (2008) and The Office (2005).
Steph Sanders: A writer, comedian known for BET's Comicview
Marcus Mangham: An up and coming comedian originally from North Carolina but now lives in Sacramento, CA, During his rise to the top, he has opened for stars such as Marsha Warfield, Tony Roberts, and Don D.C. Curry. Marcus has hosted at Cobb's Comedy Club in San Francisco, CA. He is quickly on the path to stardom.
Nuf Ced: A RAW in your face stand up comedian. His style of comedy will entertain any and all no matter
Dru Burks: A comedian born and raised in Sacramento, CA. He has been in the comedy game since 2003, and worked with the likes of Paul Moony, Pierre, Scruncho, and many more!