Comedy Night feat. Capone Lee
Guild Theater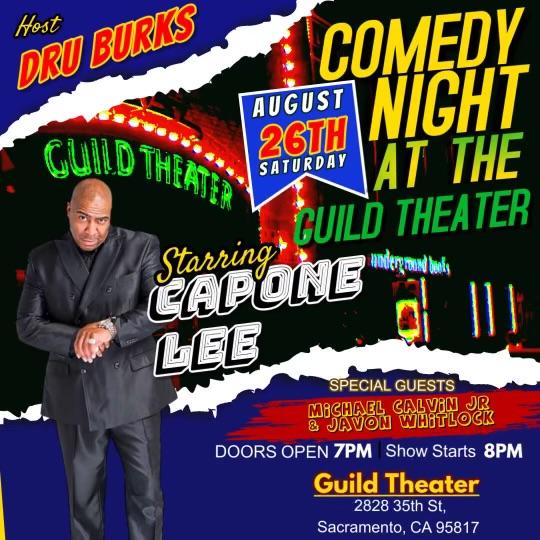 Comedy Night At The Guild Theater
Hosted By: Comedian Dru Burks
****
Time:
Doors Open at 7:00 PM
Showtime at 8:00 PM
****
Comedian Info:
(Host) Comedian Dru Burks : A comedian born and raised in Sacramento, CA. He has been in the comedy game since 2013, and worked with the likes of Paul Mooney, Pierre, Scruncho, Mark Curry and many more! He now host His Own comedy shows at the Guild Theater called Comedy Night at the Guild Theater
(Feature Comedian) Michael Calvin Jr
( Feature Comedian ) Javon Whitlock
( Feature Comedian ) Mo Jones
(Headliner) Capone Lee : known for Shaquille O'Neal Presents: All Star Comedy Jam – Live from Orlando (2012), Capone: Year of the Gangsta Tour (2016) and Death of a Dynasty (2003)
VIP includes Meet & Greet .