Comedy Night at Esther's Park
Hosted by: Dru Burks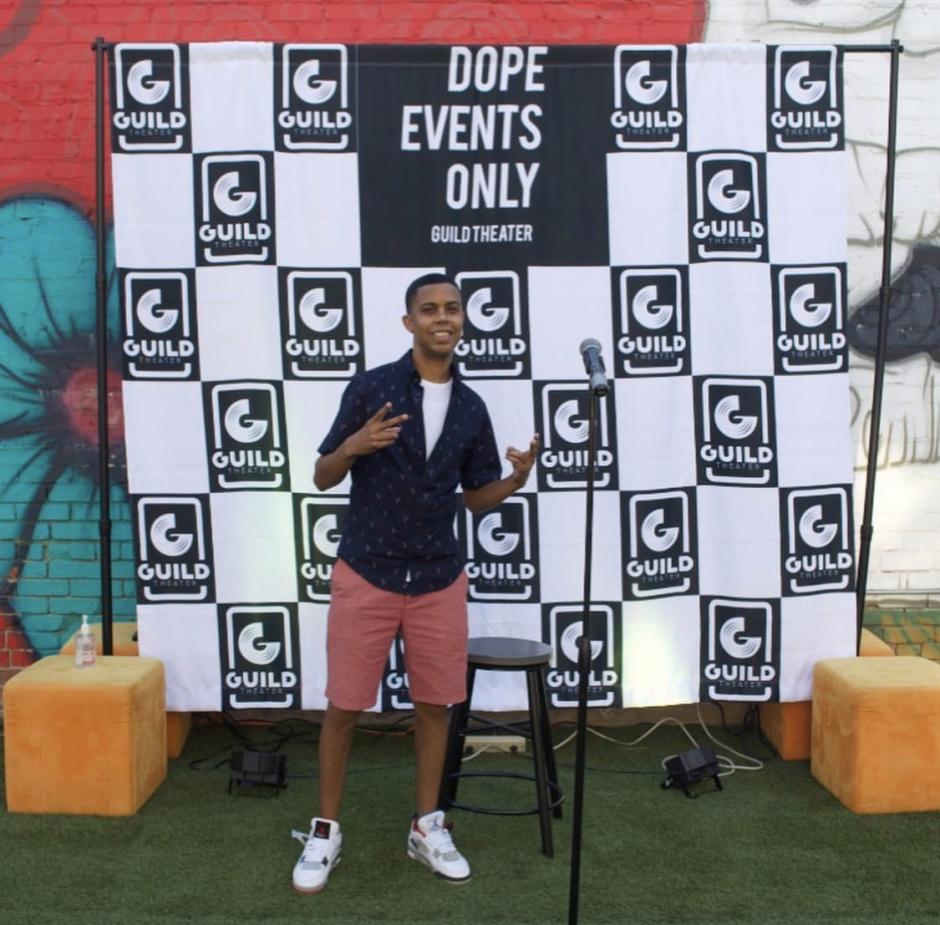 Comedy Night At Esther's Park is a 21 and over event . Where we bring you Some of the Hottest Comedians in the Game!
About this Event
Comedy Night At Esther's Park
Hosted By: Comedian Dru Burks
****
Time:
Park Gates Open @ 7:00 PM
Showtime @ 8:00 PM
****
Comedian Info:
Comedian Dru Burks (Host): A comedian born and raised in Sacramento, CA. He has been in the Comedy game since 2005, and worked with the likes of Paul Mooney, Pierre, Scruncho, Mark Curry and many more! He now host His Own comedy shows at the Guild Theater called Comedy Night at the Guild Theater
Dj : Deejay Supe A Dj out based out of Sacramento Ca. you may have herd him Djing on 103.5 or seen him Dj all the events trough out Sacramento and the Bay.
Feature Comedian : Jay Rich of Oakland Ca. has been tearing up comedy stages all over the USA since 2010. His professional personality, wild and fun stage presence makes new fans for him wherever he goes from Tommy T's (Rancho Cordova & Pleasanton CA)
Feature Comedian : Rico Tha Great of Berkeley Ca. has been tearing up comedy stages all over the USA since 2013. His professional personality, wild and fun stage presence makes new fans for him wherever he goes from Tommy T's (Rancho Cordova & Pleasanton CA)
Feature Comedian : Mo Jones Out of Oakland Ca has been tearing up comedy stages all over the USA 15 Years. He's been on BET Comic View, Music Festivals Comedy Cruises, also was on the Mc Hammer Tours in the Late 80s and 90s
Headliner Comedian : Hannibal Thompson : has been pursuing his dream of becoming a comedian/Actor since he was a young boy. The Veteran Stand Up Comedian and Instagram Sensation Has been performing and studying acting, drama, sketch, and stand-up comedy since he was eight years old. The California native has graced the stage at clubs all over the world including 5 USO tours in 2015, 2016, 2017, 2018 and 2019 in countries like Korea, Japan, Kuwait, Guam and Abu Dhabi. 6 tours of western Canada. Comedy clubs including L.A.'s historic Comedy Store, San Francisco's Purple Onion, Caroline's on Broadway in New York City and more.
Event Photography/Video Recap IG: @Esthersparksac
By taking part in this event you grant the event organizers full rights to use the images resulting from the photography/video filming, and any reproductions or adaptions of the images for social media, press releases, and fundraising opportunities.
For your safety and ours Esther's Park follows all requirements established by the Department of Public Health. These include:
Wearing a Face Covering Mask is Required in Sac County by the Ca. Department of Public Health
Guild staff will have temperatures checked before starting work
Our team will wear masks while engaging the public
Capacity and distancing are enforced, and standing in the bar is prohibited
Hand sanitizer is available and encouraged for your use
The Esther's Park is thoroughly cleaned between shows
By purchasing tickets to any event, you are authorizing this charge and acknowledging our terms and conditions below. ALL SALES ARE FINAL, unless an event is cancelled by the artist or venue. There are no refunds, transfers or exchanges. All events are 21 years of age or older, unless otherwise stated in the event description. You must have a valid state or government issued photo ID to show proof of age. All seating is on a first come first served basis.. Resale is not permitted, and the venue has the right to cancel or deny entry to anyone suspected of resale or suspected of buying resold tickets. Venue reserves the right to resell tickets of any person/party who has not been seated by scheduled show time; no refunds will be issued. Valid Photo ID and Credit Card used for purchase must be presented to pick up tickets. Tickets will not be released to anyone other than the purchaser unless prior arrangements have been made. Venue is a non-smoking and non-vaping property. Management reserves the right to deny and refuse entry to or remove parties who may be deemed a distraction to other guests (including, without limitation, appearing intoxicated or not abiding by venue policies).
Upon entry of the venue, (i) you hereby and irrevocably grant the venue owner, and its parent(s), affiliates, subsidiaries, licensees, successors and assigns (collectively, "Owner") the right to photograph, record, film and otherwise capture your image, voice and likeness (collectively, "Footage") and to own, license, assign and/or use the Footage (and/or any portion thereof) in perpetuity, throughout the world in any and all media including, without limitation, in connection with any productions, programming, advertising and promotion, subject in all respects in Owner's sole discretion.
Furthermore, you hereby acknowledge and are fully aware that there are a number of potential risks associated with your entry into the venue during and/or after the COVID-19 pandemic. This waiver, release, and other representations and covenants set forth herein are in consideration of your entry and participation/attendance of any live event performance.
Therefore, without limitation, you hereby acknowledge and understand, even with certain safety measures that are implemented within the venue (i.e. social distancing, facial covering, etc.) that you could contract COVID-19 disease which could result in a serious medical condition requiring medical treatment in a hospital or could possibly lead to death.
Accordingly, you, knowingly and freely, assume all such COVID-19 related risks, both known and unknown, relating to your entry into the venue and your participation/attendance in this live event. And, to the fullest extent permitted by applicable law, you and your heirs, successors and assigns, hereby forever release, waive, relinquish, and discharge Owner, along with its parent(s), subsidiaries, affiliates, licensees, successors and/or assigns, including without limitation, their respective officers, agents, employees, or other representatives (collectively, the "Owner Representatives"), from any and all COVID-19 related claims, demands, liabilities, rights, damages, expenses, and causes of action of whatever kind or nature, and other losses of any kind, whether known or unknown, foreseen or unforeseen, (collectively, "Damages") as a result of your entry to this venue and participation of this live event, including but not limited to personal injuries, death, disease or property losses, or any other loss, and including but not limited to claims based on the alleged negligence of any Owner Representative(s) or any other person related to COVID-19 sanitization. You further promise not to sue the Owner or any of Owner Representatives and agree to indemnify and hold them harmless from any and all Damages resulting from your contraction of COVID-19.
If any portion of these terms & conditions are found to be unenforceable, the remaining portion will remain in full force and effect. If we fail to enforce any of these Terms, it will not be considered a waiver of any of our rights.
Location : Esther's Park 3408 3rd Ave Sac Ca. 95817