Bold and Gritty Coffee Virtual Pop-Up
Underground Books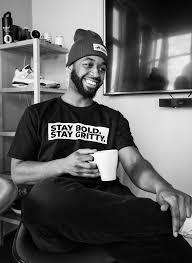 Please join us as we support black-owned businesses for this special virtual pop-up event!
Stop by Underground Books or join through this link on Thursday, April 1 from 12-1pm to virtually meet these exciting entrepreneurs from New York and learn about their story and products!
Bold & Gritty was established as a vehicle to tell the stories of Black men who have persevered against all odds to achieve their wildest dreams and visions – and to normalize their success. The culmination of this project will lead to a coffee book publication that artistically tells this narrative. This is the kind of book a 10-year-old flips through for days on end, tears out a page, and sticks it to his wall saying "I'm gonna be that guy."
Coffee is what fuels this project and the Bold and Gritty men who fill its pages – It is the medium for which we build community and spread our message to the world more globally. This project, which will largely be funded by proceeds from coffee sales, requires continued funding. It is this project that motivates us to continue pushing the Bold and Gritty brand forward and to develop robust and quality coffee that people want to share with the masses.
Join here on Thursday, April 1 from 12-1pm.