40 Acres Street Fest
40 Acres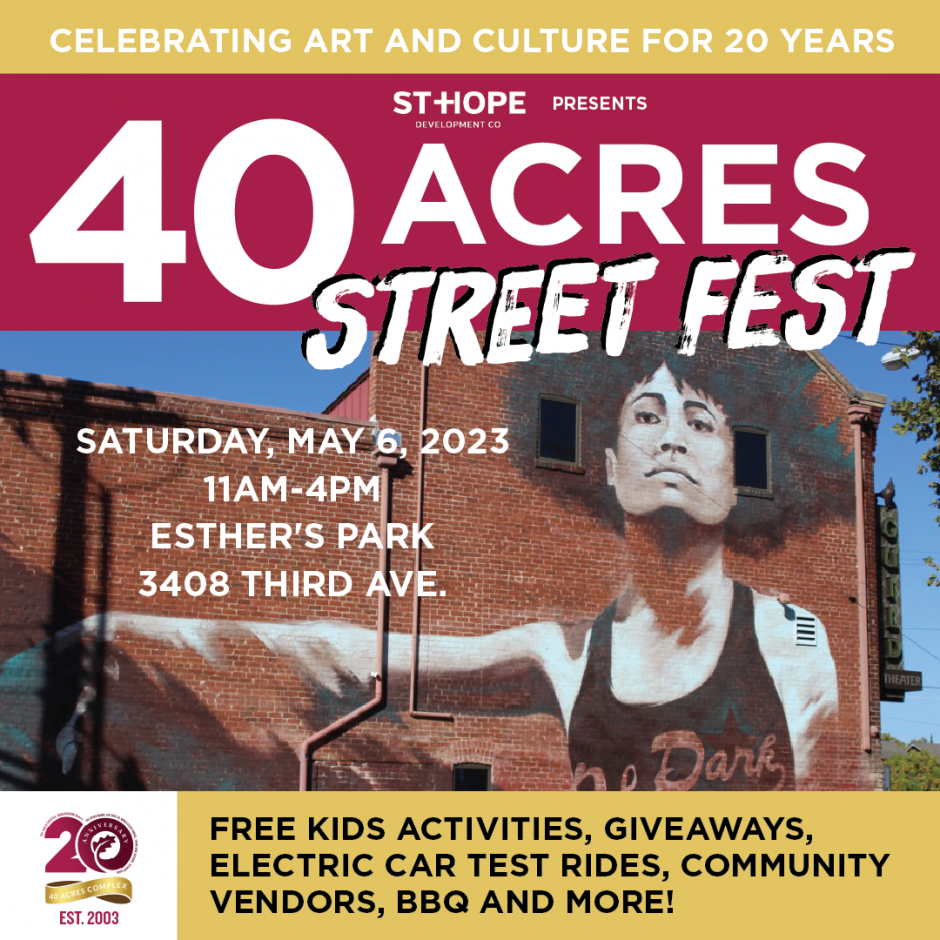 Come help us celebrate the 40 Acres Art and Cultural Center's 20 Year Anniversary at the 40 Acres Street festival that will feature community vendors and resources with giveaways, electric car test drives, kids activities and free food!
The event will also feature a 40 Acres Passport for guests to win prizes by visiting each of the 40 Acres businesses including Underground Books, Fixins Soul Kitchen, World Class Faders and Old Soul.
Located in the heart of the heart of Oak Park at 35th Street and Broadway, the 40 Acres Art and Cultural Complex was formerly known as the historic Woodruff Hotel and Guild Theater. In desperate need of repairs, the building was renovated by the St. HOPE Development Company. The 22,000 square foot facility reopened as the 40 Acres Art and Cultural Complex in 2003 and is now a successful mixed-use retail complex that includes the 12-Upper Room Apartments, The Guild Theater, Underground Books, World Class Faders, Old Soul Coffee and Fixins Soul Kitchen.
The participating vendors include:
Underground Books
Fixins Soul Kitchen
Old Soul Coffee
World Class Faders
St. HOPE Public Schools
ET Community Electric Vehicles
T&R BBQ
Sacramento Region Conservation Corps
SETA
Asian Resources
Wellspace
Highlands Charter & Technical Schools
City Year Sacramento
Sacramento Covered
Black Women United
Friends of Oak Park Library
Back 2 Work
Women's Civic Improvement Club of Sacramento, Inc.
Square Root Academy
Center for Fathers and Families
US Bank
UC Davis Aggie Square
Black Achievers Creating Change sponsored by the Sacramento Chapter of The Links, Inc.
Please note: By attending this event you grant the event organizers full rights to use the images resulting from the photography/video filming, and any reproductions or adaptions of the images for social media, press releases, and fundraising opportunities.