What makes Sacramento High hoops breathe fire as The Bee's top-ranked girls team?
February 4, 2019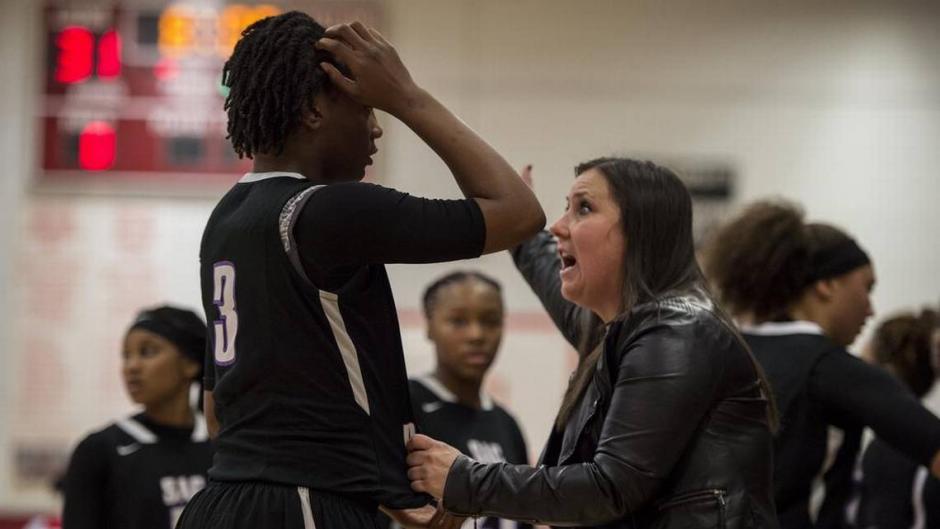 Sacramento coach Michele Massari, right, gives Andriana Avent (3) instruction during a game against McClatchy on Jan. 24, 2017. The Dragons, led by their 11th-year coach, are ranked No. 1 by The Bee this week and looking to win a Capital Athletic League championship before starting the Sac-Joaquin Section playoffs.JOSE LUIS VILLEGAS JVILLEGAS@SACBEE.COM
Michele Massari can be as demanding as she can be charming.
The 11th-year Sacramento High School girls basketball coach mandates effort on defense and to share the ball on offense, and she's known to either fume, grimace or growl on the sideline.
Before games? After games? After practice? Different woman.
Massari smiles. She can be engaging, and she cranks up the tunes to the liking of her players.
"Actually, I've loosened up a lot as a coach – I'm nicer!" Massari said, blowing her cover by laughing. "I want the girls to play as hard as they can, and I demand that they be the best that they can be, but we also try and have a lot of fun, too."
The Dragons (18-7) have produced encouraging results while navigating through the region's most difficult schedule, including taking on nationally ranked powers dotted across the country.
Sacramento is The Bee's top-ranked team for what it has done on the court, including no losses within the Sac-Joaquin Section and factoring in head-to-head matchups of common opponents.
What's more, Sacramento's top ranking by The Bee now aligns with what Cal-Hi Sports and NorCal Preps have in their weekly rankings. Those longtime websites have the Dragons rated as the section's No. 1 team.
Sacramento owns a 51-48 win over Cal-Hi state-ranked No. 5 Etiwanda on Dec. 27 at the West Coast Jamboree in the Bay Area. The Dragons beat powerhouse Heritage of Brentwood 50-48 on Jan. 21 at the Martin Luther King showcase in Oakland.
Heritage (21-3) was ranked higher in the state than Sacramento before that loss and is now 15th by Cal-Hi, a spot below Sacramento. NorCal Preps has Sacramento rated sixth, Heritage seventh, St. Mary's of Stockton eighth, Bear Creek of Stockton 11th, Folsom 12th, McClatchy 13th and Antelope 14th.
Antelope (25-2) is ranked second by The Bee and has losses to Bear Creek and Heritage. Heritage split with national power St. Mary's, routed Bee No. 4 McClatchy 70-41 on Jan. 12 and topped Antelope 68-60 on Jan. 26 at the Rep Your School Showcase at Heritage.
What does it all mean? Not a ton.
But it will start to matter Saturday afternoon, when the Sac-Joaquin Section releases its playoff brackets after crunching mounds of data. Sacramento and Antelope figure to be high seeds in Division II, making for a terrific matchup if it happens.
Antelope won its first section title last season. Sacramento seeks its 12th section final since 2007 and sixth title.
Folsom, ranked third by The Bee, McClatchy and St. Mary's are Division I teams. St. Mary's has won a record 19 section banners, spanning different divisions.
The aim for Sacramento is to maintain the momentum behind senior team leaders RyAnne Walters, a guard, and forwards Andriana Avent, Rebekah Brown and Muirae Gomez. Walters is headed to UC Santa Barbara on scholarship, Avent to New Mexico and Brown to San Francisco State.
Massari won her 250th game Jan. 11, beating Del Campo. Sacramento entered Monday night's rematch with the Cougars looking to polish off the Capital Athletic League schedule unbeaten. Sacramento entered the CAL through section realignment this season after decades in the Metro League.
"I'm really impressed with our team right now," Massari said. "I asked them to get better on defense, and they're flying all over the floor. I've coached these girls since they were freshmen. Some could've left for other schools and averaged 35 a game anywhere else, but they stayed, they've bought in, and they wanted a tough schedule.
"They're starting to maximize their potential. I'm excited (about what we can do in the playoffs)."