Sacramento-area bookstores celebrate their day with tour for bibliophiles (April 30)
The Sacramento Bee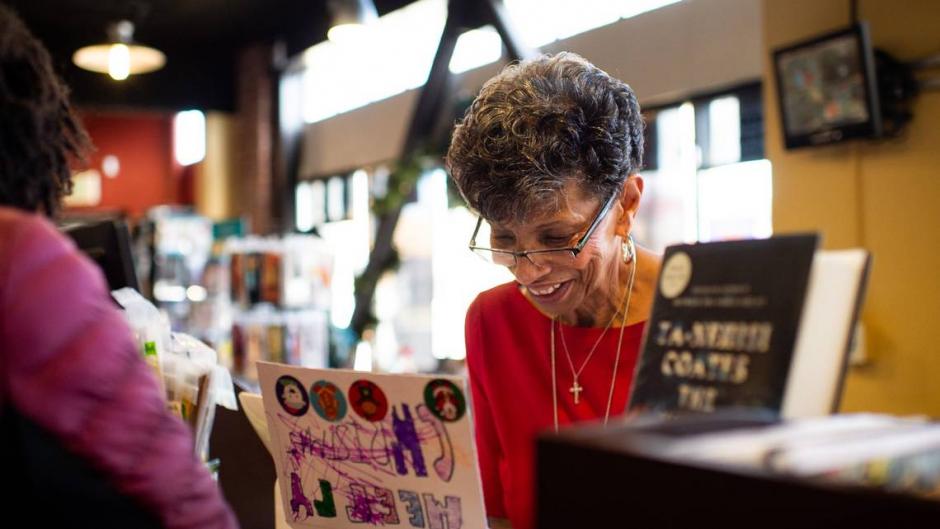 Underground Books manager Georgia West, commonly known as "Mother Rose," of Oak Park, admires a photo of a child with "Black Santa" during the second annual Christmas in Oak Park event Saturday, Dec. 14, 2019, at the bookstore and neighboring The Guild Theater. "For kids to see a Santa Claus that looks like them for a change … I mean any Santa is good, but I just think we need some options," West said. "It's a diverse community, and so we want diversity, we want everybody to come," she added, "but I just think, for us, this is a great option and a great event."
Photo by XAVIER MASCAREÑAS xmascarenas@sacbee.com
Get ready, book lovers, Independent Bookstore Day is coming up on April 30, and our page-turners are prepared with the Sacramento Region's Gold Country Book Tour. This will be the second annual book tour day, and 10 bookstores are participating from Sacramento, Davis, Folsom and Elk Grove.
Your personal Gold Country Book Tour can start at any of the stores. At your first store, you can either download the app on your phone, or grab a paper book tour passport. Each store will have a giveaway item with a $10 purchase, like bookmarks, stickers and pins. At each store, you will receive a ticket to be entered to win one of two prize collections. At the fifth store that day, you will earn an additional entry ticket. At the sixth store, you'll earn two additional tickets. It's possible to get up to 31 entries for the drawing.
The book tour offers a great opportunity for people to see the diversity in different bookstores.
"We all offer something different," said Miranda Culp from Amatoria Fine Art Books in midtown. For example, Amatoria is primarily focused on arts. "Each store has its own events, from readings to kid events — it helps you get to know what's in the neighborhood," said Laurelin Gilmore, also from Amatoria.
The tour will help introduce new customers to what each store has to offer.
"It's important not to judge a bookstore by its cover," Gilmore said.
"Independent bookstores reflect the neighborhoods. Staff can help with questions and connect you to sources. They become like community centers," Culp said.
Independent bookstores also offer things like summer reading groups, storytimes and events. The tour offers a chance to see what each store offers.
"Some have used books or scarce books … independent bookstores are about discovery," Gilmore said. They can help you find things you didn't know you needed.
Independent Bookstore Day is a one-day national bookstore party meant to celebrate all independent bookstores. This year's IBD ambassador is Angie Thomas, author of "The Hate U Give" and "On the Come Up."
Bookstores participating in the 2022 Gold Country Book Tour:
▪ Amatoria Fine Art Books (Midtown Sacramento) is a woman artist-owned store with a 35-year legacy, specializing in used and rare books, prints, and ephemera with an emphasis on all things creative.
▪ A Seat at the Table (Elk Grove) is a bookstore and cafe that celebrates all identities and smashes the kyriarchy through books, coffee and community. They offer Temple coffee, breakfast and lunch, treats by Kalani Kakes, new books and gifts for all ages, and a camping-themed play area.
▪ The Avid Reader (Davis) is a general interest bookstore and has been at the heart of downtown Davis for over 34 years. They carry new books for all ages and have a staff that is always happy to help customers find that special treasure.
▪ Beers Books (Downtown Sacramento) has served Sacramento with new, used, rare and out-of-print books since 1936.
▪ Capital Books (Downtown Sacramento) is the latest of many ventures for Ross and Heidi Rojek, selling brand-new books, games, puzzles, Pokemon cards, and Magic the Gathering cards.
▪ East Village Books (East Sacramento) carries a selection of new releases in fiction, nonfiction, local interest, cooking, crafts, children's, young adult and well-loved classics.
▪ Crawford's Books (Land Park, Sacramento) is a family-owned, independent bookstore that has been in operation since 1983, with new and used books in a variety of genres and a robust trade program.
▪ Ruby's Books (Folsom) carries a highly-curated selection of new books from many genres, as well as toys and gifts. They strive to create a space that will make readers of all ages want to come back again and again to fuel their love of books. Come in and meet the namesake golden retriever, Ruby.
▪ Underground Books (Oak Park, Sacramento) has been the literary hub of Oak Park since it opened in 2003. Specializing in new books and gifts, this shop hosts book signings by local and national authors, lectures, poetry events, and children's story time.
▪ Wild Sisters Book Company (Tahoe Park, Sacramento) is a sister-owned bookshop around the corner in the Tallac Village Shopping Center in the heart of Tahoe Park. The Wild Sisters have a wide selection of new and used books, vinyl, games and gifts for everyone.
For more information on the Gold Country Book Tour 2022, visit goldcountrybooktour.com.
Read more at: https://www.sacbee.com/entertainment/article260625447.html#storylink=cpy