Prep news, notes and rankings: Massari closes in on 300th career win at Sacramento High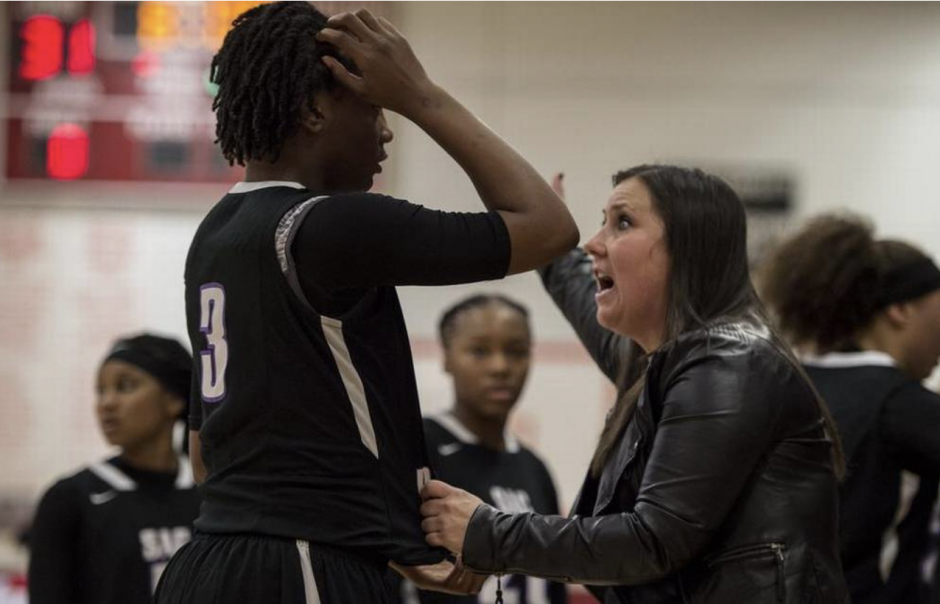 Read more at: https://www.sacbee.com/sports/high-school/article271837567.html#storylink=cpy
You can hear it in her voice. The coach is doing fine. Better than fine, really. "I'm doing great, just great," Michele Massari declared over the phone, her voice booming with cheer and laughter. This story is a subscriber exclusive Massari is the Sacramento High School girls basketball coach who is in her 16th season leading the Dragons. Her career has included a trophy case full of league championships, five Sac-Joaquin Section blue banners, a lot of playoff appearances and bus loads of players who earned full Division I athletic scholarships. As Massari sits at career victory No. 299 with the Dragons, she reflected with The Bee on what it all means — the highs, the joys and the sobering reminder that, in sports, things tend to balance out. The downs can be swift, as in losses. The Dragons are a young team, learning by the week, and at 10-13, they'll need to run the table for a shot at the playoffs, which start next month. Massari won't waver. She'll continue to coach the way she's always coached — insisting on effort, on fundamentals, on caring about the sport and for one another. Massari's last great team was in 2018-19, when the Dragons were Bee-ranked No. 1 and took on a state schedule. COVID-19 hit the program hard, Massari said, and Sacramento dipped to 8-20 in 2021-22. The climb back up is in full motion now, and here's the coach, still embracing challenges like she always has. She knows her teams will play hard, and that's always a start.
"I've been so fortunate, had so many good teams and players and coaches, but we've been humbled the last two years," Massari said. "Teams that we used to beat by 40 are beating us now, but that happens. I've reached some peaks and valleys, and I'm OK with it. I'm still young-minded, and I still love teaching the game."
Massari added, "A lot of coaches might have walked away after some down years, and it was tempting. But these players still want to be coached. I've had to adapt and adjust in coaching. I've learned to be more positive and patient because I've always been intense, and I haven't mastered it by any means. What motivates me is the kids want to get better, and they grind and work hard every day, dedicating themselves. We have kids who didn't want to dribble last year, who are now. Things like that."
Massari paused then added, "The kids know they have no choice but to play hard when they play for me, or they sit. And they're so scrappy and play so hard, so I've enjoyed that. We may not always win now, but we still play hard. I tell the girls all the time that the wins will come and what's important is learning how to play, to have faith in what we're coaching. I don't like losing, but I see a lot of small victories."
One player who has shown vast improvement is 5-foot-9 sophomore guard/forward Le'Ne Dunn. She can do it all. She had 37 points and 18 rebounds against Rio Americano, grabbed 18 more rebounds against El Camino, and has come up with eight or more steals six times.
"She can be so good, and it's fun watching her grow," Massari said.
As for 300 wins, it'll come. It may happen Wednesday against Del Campo, the program she beat years ago for win No. 250. Massari said the time has "flown by" and "I had no idea what I was getting myself into, but it's been fun."
The ambitious scheduling is gone. It will return when the team grows, Massari said, and she's certain the Dragons will be a power again.
Married for nearly two years, Massari said her life partner, Esther, has helped provide balance and perspective. They live near the Oak Park campus, and Esther is a regular at games with their 2-year old foster child.
"When COVID hit, when I was losing faith in my ability to coach, when I had a lot of self doubt, wondering if I was still built for this, my spouse did a tremendous job encouraging me," Massari said. "She kept me grounded and focused on what was really important. She's also my toughest critic. That's been good for me, too."
Read more at: https://www.sacbee.com/sports/high-school/article271837567.html#storylink=cpy