Dia De Los Muertos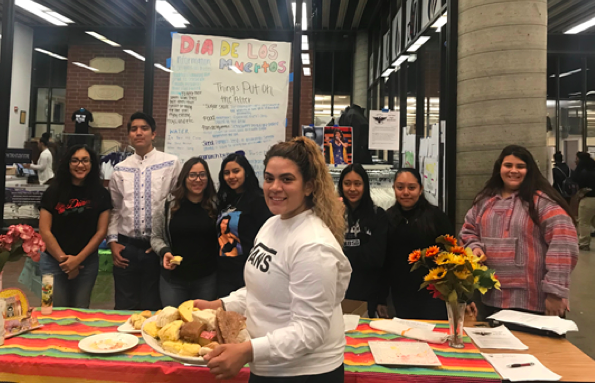 While Dia de los Muertos has become more mainstream over the past years, members (mechistas) of Sac High's M.E.Ch.A (Movimiento Estudiantil Chicanx de Aztlan) wanted to make sure the tradition was also shared with their peers at Sac High. Dia de los Muertos is a Mexican holiday in which the life of lost loved ones is honored. Death is viewed as transition in life and tribute is paid to the journey while living.
Mechistas created an altar using the window of the student store, The Torch. The altar displayed traditional papel picado, calaveras, and photos of those no longer present. They included heroes and icons such as Cesar Chavez, Dr. Martin Luther King, Selena, and Frida Kahlo.
Kassandra Chavez, M.E.Ch.A cultural chair, created an informational poster to explain the holiday and symbolism of items placed on the altar. She shared how water is placed on the altar to calm the soul's thirst after a long journey and how favorite foods, drinks, and items are placed on the altar to please the spirits when they are honored for the holiday.
In addition to sharing traditions through the display, M.E.Ch.A members came to school extra early on November 3rd, to give out free pan dulce (Mexican sweet bread) to everyone entering the school and wish them a "Feliz Dia de Los Muertos." Nahomy Salvador- 12th grade, shared why this project made her proud, stating "I never got to do this at any of my other schools. I was happy to represent my culture." Mechistas were beaming with pride and gratitude while sharing their culture with other scholars.