Area's best girls basketball teams, Sac High and McClatchy, need each other
Sac Bee - January 26, 2017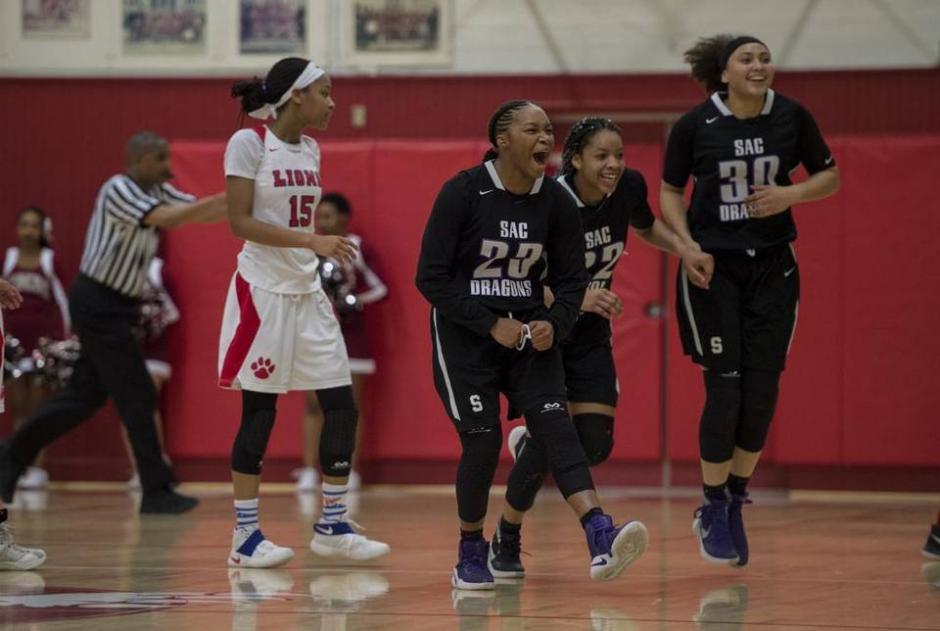 RyAnne Walters hobbled a bit, her limbs tender to the touch.
The sophomore guard for the Sacramento High School girls basketball team was awash in pride Wednesday night after the No. 2 Dragons held off top-ranked McClatchy 54-48, but her gait was more deliberate than a full giddy gallop.
When these rivals meet anything goes, including a pileup of bodies chasing a loose ball that leaves fans to wonder if there will be sounds of crumpled metal and shattered glass.
"Got one here," Walters said of a bruise, pointing to her knee, "and got one here (shin) and all over. Gotta play hard. We like our bruises."
The bruises represent a badge of honor for players on both squads. The girls game may be played under the rim, but fundamentals are paramount, and no one dare doubt the effort. An overflow gathering at McClatchy witnessed it up close, including some flair: behind-the-back dribbles and nifty moves to the basket. The rematch will be in the regular-season finale Feb. 15 at Sacramento's Dave Hotell Pavilion.
It'll be the final time they play this season since both schools will compete in different divisions in the Sac-Joaquin Section playoffs.
As competitive as this rivalry has become, the Dragons and Lions have developed mutual respect. They need each other. They push each other to become better.
The Metropolitan Conference, once littered with successful programs, has struggled to keep pace. McClatchy (17-3) and Sacramento (13-7) have found little resistance in league play, often beating other teams by 30, 50 and 90 points. Sacramento's lone loss to a local team was to McClatchy in a Bay Area tournament last month. McClatchy's only loss to an area school has come against Sacramento.
"Without each other other, it'd be pretty boring," said Walters, whose mother, Richelle Hudson, stood nearby, beaming while her daughter talked.
Hudson played basketball at Burbank 20 years ago, when the best teams in the region were found in the foothills and suburbs. But Hudson's athletic career ended after her sophomore season.
"I had anger issues," said Hudson, an account executive in Sacramento. "I got so mad (in a game) that I threw a chair at a referee and the coach told me turn in my jersey right there. He was right. I learned. It was a lasting lesson. RyAnne, she's different than me. She knows what this game can do for her. She wants to go to Stanford. She wants to travel the world. The girls game has come so far now."
The city game has come of age since 2000. In that decade, Kennedy made Sac-Joaquin Section championships and Northern California regional trips the norm. In the past 10 years, with dedicated coaches and year-round competition, Sacramento and McClatchy became powerhouses that sent players to college on scholarship, including Vicki Baugh and Brittany Shine of Sacramento High going to Tennessee and Florida, respectively, and McClatchy's Ariel Thomas and Gigi Garcia moving on to Oregon and Washington. Current Dragons guard Sasha Brown has signed with Long Beach State, and Lions forward Jordan Cruz, although sidelined most of this season with a knee strain, will play at Utah.
McClatchy in 2015 became the first Sacramento City Unified School District girls team to win a state championship in any sport, doing so in Division I. Last season, Sacramento lost in the Division II NorCal final at the buzzer to Elk Grove.
McClatchy is coached by Jeff Ota, a fixture at the school since the 1970s. He is calm and studious, much like his mentor, Harvey Tahara, who elevated the Lions girls program last decade. Ota has coached the Lions girls and boys teams for years – at the same time when the schedules allowed. He is in his first season as girls head coach, replacing another alum, Jessica Kunisaki, now an assistant women's coach at Sacramento State.
"Harvey's my mentor, got me into coaching when I never thought I'd do it, and I love doing this," said Ota, a retired business owner. "I love this team and our potential, but we have a lot of work to do."
Sacramento is coached by Michele Massari. She is constant energy, animated and frantic, pumping her fists when Serina "Speedy" McMillan drew one of four charges against McClatchy. Massari is a reflection of her mentor, Craig Strohm, who coached Nevada Union to championship heights in the 1980s and '90s. Massari graduated from Nevada Union in 1996 and has coached the Dragons for nine seasons.
She talks to Strohm regularly. She speaks to her father Mike Massari, a retired Nevada Union football coach, daily.
"My dad says I'm too hard on the girls and he tells me to make sure we make it fun, and we do with trips, a Martin Luther King march together, baking cookies, singing," Massari said. "I tell them all the time how proud of them I am and how much I care. We're still young and we make blooper mistakes, but our energy is crazy and we have great potential."
Said Walters, the sophomore guard, "Coach believes in us and cares. We feel all of it."
Right on down to the bruises.
Read more here: http://www.sacbee.com/sports/high-school/joe-davidson/article129042759.html#storylink=cpy