2017 Dragons to Attend Prestigious Universities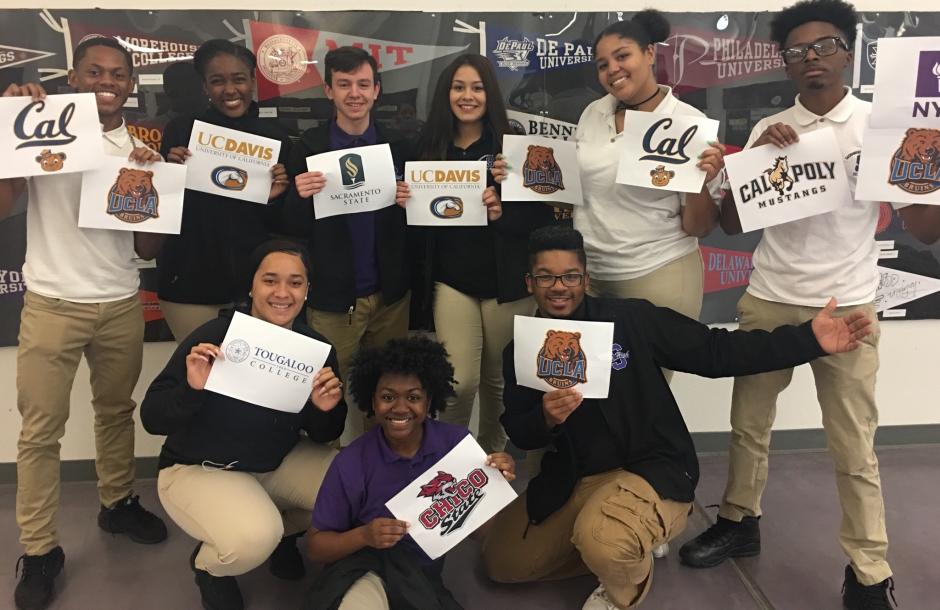 The 140 members of the Class of 2017 will be remembered as one of our most academically successful classes ever to walk through Sac High's doors. For a second year in a row, 95% of the senior class were accepted to four year universities, but the quantity of students accepted to prestigious universities soared.
Thirty-seven Historically Black Colleges and Universities (HBCU's) accepted our students, including multiple admissions from the elite Howard, Hampton, Spelman, and Morehouse Universities. Ten seniors accepted HBCU offers and are excited to spread their wings to the east coast. Among them, Myshala Wilson will be the first Sac High alum ever to attend Tougaloo College in Mississippi.
All twenty-three California State University campuses accepted our students, and 53 of our seniors will be attending these public campuses up and down the state. As in previous years, CSU Sacramento will take the largest group of Dragons (19), but CSU Chico was the clear favorite for those who want to spread their wings with 13 students accepting their offer to the only non-local CSU to have a partnership with our school. These future Wildcats will enjoy personalized academic support, cheaper housing options, and a success center devoted to helping them transition to and through college. This will be the largest group of students we have ever sent to CSU Chico in one year.
Another campus that won the hearts of our seniors was UC Irvine. Usually one of the lesser known of the nine UC campuses by our students, UC Irvine conducted extensive outreach throughout the year, due in large part to the Sac High alumni who made positive impressions while attending UC Irvine throughout the past several years. The outreach efforts paid off. Of the 31 seniors who will be attending UC campuses, nine have selected UC Irvine (UCLA was close with seven seniors accepting admission offers). Sac High students will be represented on seven UC campuses, including Greg Gilliam who will be attending UC Berkeley on a full ride scholarship through the Fiat Lux program. He will be a campus leader through one of the most prestigious programs offered to undergraduates. Following a year in which no Sac High graduates accepted their respective offers to Cal, we now have two Dragons back in Cal's freshman class as Gregory will be joined by Nadja Barker!
Seven of our seniors have accepted offers from private or out of state public institutions, including Destyni Freese, who will be the first student attending the University of Southern California since 2013's Kamarri Dates (who just graduated on May 12th). Destyni received a generous academic scholarship that will pay for the vast majority of her education. Legend Brandenburg has lived up to his name by being the first Dragon since 2011 to be accepted to Stanford University. Legend's academic and personal strengths earned him a near full ride to this incredibly selective university. With multiple private scholarships coming his way, Legend will not be paying a cent toward the nearly $70,000 annual price tag! Now that all of the admissions and financial aid offers have come in and tough decisions made, 72% of our seniors will be attending four-year colleges or universities, 27% will be attending community colleges, and 1% will enter the military.
Three student athletes earned full ride athletic scholarships, including Sasha Brown who will play basketball at CSU Long Beach, Tariq Hollandsworth who will join UNLV's football program, and Mackenzie Martinelli who will play softball at Oklahoma City University.
It will be difficult for the class of 2018 to fill the talented shoes of 2017's graduating class, but Sac High students have never shied away from challenges. As each class graduates, heads off to college, and earns their college degrees, we again realize our mission to graduate self-motivated, industrious, and critically thinking leaders who are committed to serving others, passionate about lifelong learning and prepared to earn a degree from a four-year college.