Teacher Profile: James Townsend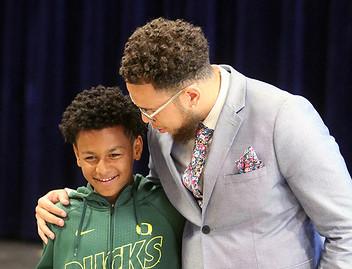 James Townsend is in his second year of teaching at St. HOPE, but he is no newbie to the family. Growing up in Oak Park, James got into quite a bit of trouble as a young kid. He attended Sac Prep for middle school, a former KIPP school that was located on the PS7 Elementary campus. It was in these years James encountered a principal and mentor who would change his life. He had never seen such a successful black male and with this picture in site, James began to envision his future of triumph.
Upon starting school at Sac High, James began to surround himself with kids who were like minded. "Sac High was interesting because the culture was you're not cool if you're not going to college". At this age he was receiving positive attention for his academics and chose to attend UC Santa Cruz where he was exposed to an entirely new culture. As James sat in class as a Junior in college, he listened to his classmates and professor discuss some of the struggles that urban neighborhoods face today. It was at this moment he realized that he felt an overwhelming need to soak up all college has to offer and return to Oak Park to give back to his community.
James considered many options post college graduation, but there was one choice that would allow him to come back and make a difference right away. He joined Teach for America in 2015 and immediately began teaching at Oak Park Prep. James has high expectations for his scholars and for himself. He is passionate about making change in Oak Park first, and then the rest of the world. It's an honor to have such a passionate educator in the St. HOPE family!