Staff Spotlight: Alli Kauffroath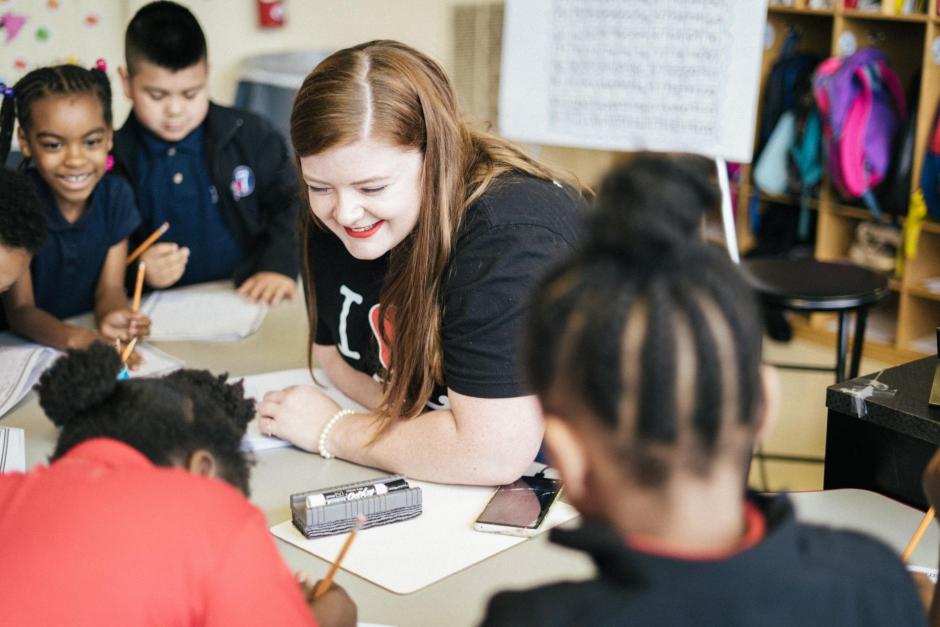 There is no denying that Ms. Kauffroath is one of the most dedicated champions to PS7, her scholars, and our families. Ms. Kauffroath is often seen on campus from the early hours of the morning to the late hours of the evening, as well as on weekends, holidays, and breaks. When she is not planning or beautifying her classroom, Ms. Kauffroath continues to build relationships with her scholars and families by putting in #MoreTime with them at football games, during extra tutoring, supporting with lunches, dismissals, and truly in any other way possible. Ms. Kauffroath is a true champion and we are so
excited to present her as the Teacher of the Month and PS7 Champion for September.
If there is a need, Ms. Kauffroath is one of the first to volunteer to support. There is never a challenge that is too big or robust, and she takes on each request with pride and enthusiasm. She is willing to support with behaviors, as well as take in any scholars needing a separate space or setting for reflection. She is willing to be a runner for dismissal, or stay during lunch to ensure her scholars are being leaders outside of the classroom. She is willing to engage other stakeholders to tutor her scholars so that they can learn the foundational skills they need to close the gaps in their skills. Because of this dedication and commitment, Ms. Kauffroath has built so many positive relationships and truly stands out as a leader on campus.
One thing that is undeniable is the beauty that is Ms. Kauffroath's classroom. Over the summer, Ms. Kauffroath spent countless hours prepping and preparing for her new set of scholars. She embraced the expectations for an exemplar classroom, and then took it to a new level. With a thrilling, 'Under The Sea' theme, her scholars are encouraged to work towards being the 'Starfish of the Week,' and to 'Dive Into Data' on a daily basis. Her hard work is easily seen throughout the décor and the walls, and she has done an excellent job creating an exemplar environment for our scholars and families.
As mentioned above, there is no challenge that is too difficult for Ms. Kauffroath. She LOVES to win. This competitive nature and ability to invest her scholars and her families have won her TWO Culture Cups already – First Day Forms & Class Chant Competition. She was also the first teacher in all of St. HOPE to take on the Rubric Challenge and memorize her rubric for a fantastic prize. Finally, she also was the 2nd homeroom (barely!) to have all of her family surveys returned! Ms. Kauffroath truly gets so excited for a challenge and loves to share that excitement with scholars and families. This love for PS7 and investment has created such a strong, positive culture for Ms. Kauffroath and her scholars.
We are so lucky to have Ms. Kauffroath on our PS7 Team and know that we could not dream up a better Champion for our
scholars. Thank you so much for all you do and thank you for loving PS7 with all of your heart and soul!