St. HOPE Scholar Spotlight
Students teaching, students leading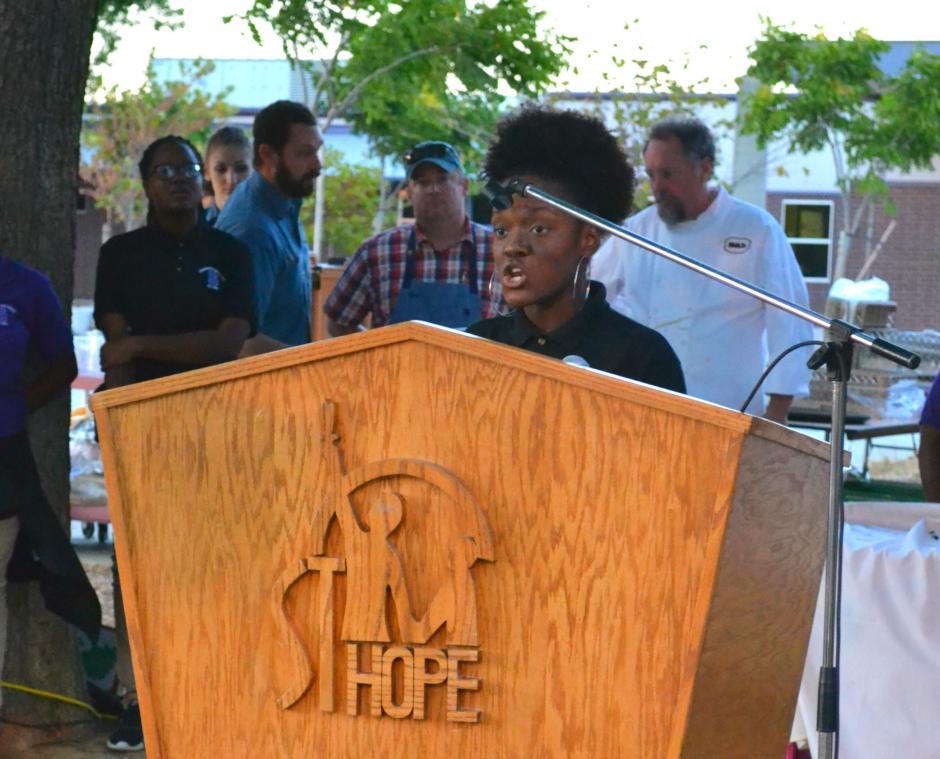 My name is Akosua Boateng and I am a 17 year old senior who attends Sacramento Charter High School. I have been part of the St. HOPE family since I started my 4th grade year at PS7 elementary and I'm looking forward to walking the stage this spring with my diploma and heading off to college next year. I can proudly say that college has been drilled in my head since I was in elementary school. I have applied to all the colleges I am interested in attending, so the plan is to attend one of the many UCs here in the state or go to a private school.
As a student who has been in the public education system for most of my life, I have made some intriguing observations and done research that has brought me to some disturbing conclusions. Current education policies, in Sacramento and beyond , are not working when it comes to closing the educational gap for students of color despite years of effort. In fact, the construction of the public education system is one of the causes for the achievement gap between white students and students of color.
As a result of what I learned, I founded the Youth Activist Alliance at Sac High with the vision of empowering and educating the youth to fight injustices that many minority and low income students face in our schools and communities. We as the Youth Activist Alliance have embarked on a long journey to reform public education throughout California and specifically at Sac High. Our members have collaborated with the Zero Tolerance Leadership team, Black Parallel School Board, Black Minds Matter Sacramento, and Sac High's administration to advocate for changed policies on a local and even statewide level. Mostly student led and constructed, Sac High students have not only testified in front of legislators at California's Capitol to advocate for policies that would reduce the school to prison pipeline, but we have also been on panels speaking to school administrators and teachers about ways to improve our public education in a way to benefit all students, especially students of color who often get lower quality education.
Out of all of our ventures, I would like to think the Youth Activist Alliance team has had the most impact at our home school, Sac High. Sac High is a school with a majority African American and Latino student body who come from low income backgrounds. However, the demographics of Sac High's teachers and staff do not reflect the students being served. As students, we saw that the cultural difference between Sac High adults and students was one of the underlying issues preventing relationships from strengthening. Without strong relationships, teaching and learning are both more difficult in the classroom. My peers and I have seen this first hand. However, it is not the fault of the teachers and the staff at Sac High. Across the country there is an inadequate amount of training for staff when it comes to maintaining a culturally sensitive environment that is safe for the students and the adults.
The Youth Activist Alliance team wants all of our staff and teachers to build positive relationships with students from all backgrounds and with different personalities. We saw an opportunity to help our teachers and staff build a more productive and unified school environment. Our group acts with the belief that better trained teachers and staff mean a better school climate and high quality education. When we sat down with our principal, Dr. Michelle Seijas, she was ecstatic about giving students a voice and an opportunity to teach cultural sensitivity to staff.
So, on January 10th Phachelle Ketchum, Phayth Jessie, and I ran three workshops for all the Sac High staff that covered the topics of Restorative Justice, Implicit Bias/Hidden Curriculum and the Misuse of Power. There was an introductory session for fifteen minutes, and then staff rotated through twenty five minutes sessions. Afterwards we came together for a whole group debrief.
The topics were developed from both the issues our group felt should be taught to Sac High staff and teachers as well as from suggestions by Sac High's own student body collected from surveys. These topics not only emphasized the importance of being culturally competent, but also emphasized effective conflict-resolution, communicating to students the clear intentions of staff actions and showing care for every student in every situation. We could not give the teachers and staff all of the information they needed, but we wanted to introduce them to these topics so that they could start focusing on building relationships and hearing student perspectives on how our campus should operate.
The most common feedback we heard at our all staff debrief was that teachers now understood why it was important to be sensitive to our unique student identities. Most of all, they were optimistic to get back into Sac High's student body and to build better relationships with an understanding that the way the education is delivered is just as important as the education itself. School started back for Sac High students on January 12th and we are looking forward to hearing how things are going from staff and students.
Sac High's administration is continuing to work with the Youth Activist Alliance to better our school environment. For this I am grateful and I see that student voice is valued on campus. We want to continue this momentum with students and staff and I hope that Sac High will continue to be the led in this area long after I cross the stage, diploma in hand, on my way to college.