Soaring to New Heights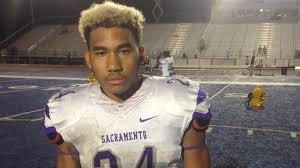 Sac High Football has been practicing since January, winning games and turning heads as they continue to dominate on the gridiron. After a brutal pre-season schedule, the Dragons are reaping the benefits of their hard work. The year round training, the intense work-out regiment imposed by Head Coach Justin Reber, and the mantra of commitment to excellence has produced tremendous results.
The Sac High Dragons football team defeated Folsom High School 32-27 on Friday, September 16, 2016 in stunning fashion. The Dragons' victory ended the No. 1 ranked Bulldogs' three-year, 48-game regular season win streak. The program defining victory also catapulted the Dragons in the regional rankings where they currently hold the top spot in the Sacramento Bee rankings. The Dragons have not been ranked No. 1 since the 1960's when Metro League games were played at Hughes Stadium.
Senior running back Tariq Hollandsworth has had a monstrous season with 995 rushing yards and nine touchdowns. In the game against Folsom High, he rushed for 248 yards on 26 carries with one touchdown. The 6 foot, 206 pound running back has been impressive and is supported by a young core of exceptional scholar-athletes who are really starting to gel.
In regards to the No. 1 ranking, Coach Reber added, "It's a good week. It's very cool for our kids and community. It's exciting. There has been a lot of banter wondering if we deserve it, but I tell our players that they earned it."
The Dragons will host Valley High School at Sac High on Saturday, October 15, 2016, as the Purple and White seek to defend their 2015 Metro League Championship. Kick-off is slated for 11:00 a.m. for JV and 1:00 p.m. for the No. 1 ranked varsity squad
For a complete schedule visit us at www.sachigh.org and make sure to follow us on social media for updates, pictures, and the latest on Sac High Athletics.
Instagram: Sachighathletics
Twitter: Sac High Athletics: @qualityedforall
Facebook: Sacramento Charter High School