Scholar Spotlight: Jazmine Spears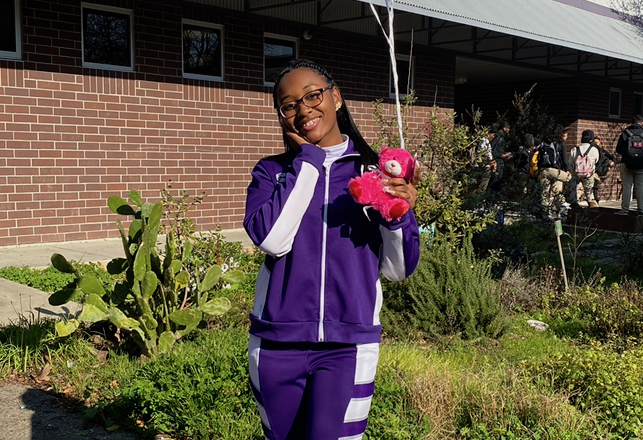 See below for a brief but encouraging interview with Sacramento High School's 12th grade scholar, Jazmine Spears!
Q: Tell us a little bit about your high school experience.
A: These last four year years at Sac High have been so busy! I have been involved in so many different activities like step team, basketball, cheerleading, College Track, working at Underground Books and so much more! This year I was one of the team captains for cheer and last summer I got the experience of going to East Africa for 2 weeks with College Track. Being involved has been so important to me as it allows me to bond with my fellow classmates, be a part of a team, and gain different responsibilities.
Q: What was your trip to Africa with College Track like?
A: It was the most life changing experience. It was a youth leadership trip and we went to a youth summit to meet with other students from Africa as well as College Track students from different parts of the United States. I learned so much about myself and had to grow and come out of my shell. I really had to step away from comfortability and that taught me a lot. It also grew my appreciation and gratitude for everything that I have.
Q: What is it like working at Underground Books?
A: It's amazing. Working at Underground Books gives me an opportunity to meet different members of the community and has given me experience that many people my age don't have. Many students my age work in fast food, but I feel fortunate to have had this experience to put on my resume. Mother Rose, who operates the bookstore, checks in on me and my grades. I feel like I can talk to her and I feel comfortable there. I also have gotten to know the St. HOPE family so much better which makes my overall experience at St. HOPE Public Schools that much better!
Q: How has distance learning been and how does COVID-19 impact your senior year?
A: COVID-19 has changed many things for me as I will not get to have senior prom with my friends, or a senior trip. Many events like senior signing day and graduation may not look the same. It really hurts because I have worked extremely hard and this is everything I was looking forward to. I feel like a celebration is well deserved and there is nothing anyone can do. On the other hand, distance learning has actually been pretty good. Me and my peers have been really engaged. Our teachers are trying so hard to go above and beyond to make this work for us, and that really makes me want to put in equal effort.
Q: Where have you decided to go to College next year?
A: I received a full ride scholarship to Tulane and have officially committed to the University! The scholarship is through a partnership w/ College Track in which I went through a phone interview and in person interview. I was nervous flying out to New Orleans for my interview and interacting with some of the other candidates, but I came out on top and am so excited about this opportunity. I really wanted to go away for college to challenge myself even more, and I know I can do it. I am going to be heading over to Tulane this summer to take one class and get familiar with the school before my first semester starts. At Tulane I will major in Public Health and then go on to med school where I will study to become an OBGYN. I am really interested in helping to better the infant mortality rate.
Q: Anything else you want to tell us?
A: Just that anyone can do it if they stay focused and work hard! I also love my senior quote, "Life is not about how many breaths you take, but the moments that take your breath away."