New 40 Acres Sign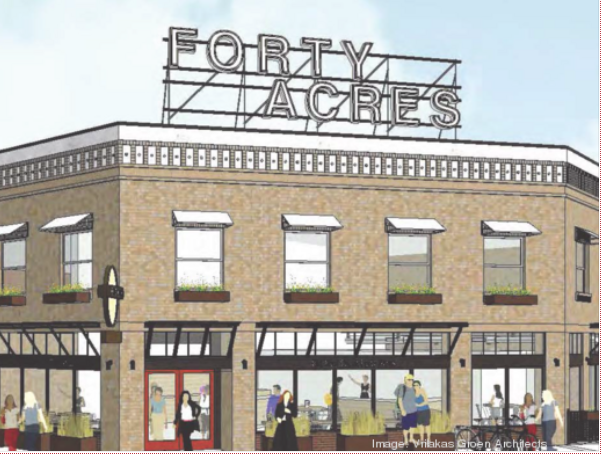 It's been a long year! Merriam-Webster and Dictionary.com recently announced that the word of the year for 2020 is "Pandemic," but here at St. HOPE, the "P" word that has floated around much more often has been "Pivot". In basketball, pivoting is defined as "the action of stepping with one foot while keeping the other foot at its point of contact with the floor" and that's exactly what we've done by continuing our mission of revitalizing Oak Park through public education and economic development while adjusting how we do it.
Here are a few examples:
Our new barbershop, World-Class Faders, moved to outdoor operations when barbershops were required to stop indoor operations.
After the closure of indoor performance venues, we moved our Guild Theater events to our outdoor venue, Esther's Park, where we held socially distanced events and performances.
The financial implications of the stay-at-home orders have been huge, thus we proactively checked in on our residential and commercial tenants to see how they had been impacted and worked out plans to make sure they were OK.
When retailers were required to temporarily close their doors we optimized Underground Book's online store, completed a total store remodel, and opened the 40 Acres Market.
Fixins hadn't been open for a year when the pandemic hit. The initial goal after opening had been to focus on dine-in service before opening up to delivery and pick-up options. They immediately added a pick-up and delivery option when dine-in seating was restricted.
The newest member of the St. HOPE Family, Slim & Husky's, moved forward with their plans to open. Adding another restaurant to Oak Park and creating jobs at a time when we've seen record-setting unemployment numbers.
Most importantly and probably our proudest pivot has been our St. HOPE Public School's unwillingness to accept less than the best from our scholars. Staff worked tirelessly to host an online prom and graduation, create an effective distance learning program, and finally welcome scholars back to campus through a hybrid model approved by the Sacramento County Health Department.
But we're not done yet! In the coming weeks, we're working on getting approvals to move forward with our "40 Acres" sign atop the 40 Acres Complex located at 35th Street and Broadway. While the 40 Acres Complex isn't a full 40 acres, it represents the commitment made over 155 years ago of 40 acres and a mule to recently freed slaves after the civil war. Reverend Garrison Frazier, one of the key contributors to the 40 acres and a mule commitment, felt that education and land ownership were key for true freedom. While that promise of land went unfulfilled, St. HOPE continues to strive for true freedom through education and economic development. Our new 40 Acres sign will be a constant reminder of that age-old commitment.