Bonney Donates Headsets to PS7 Elementary Scholars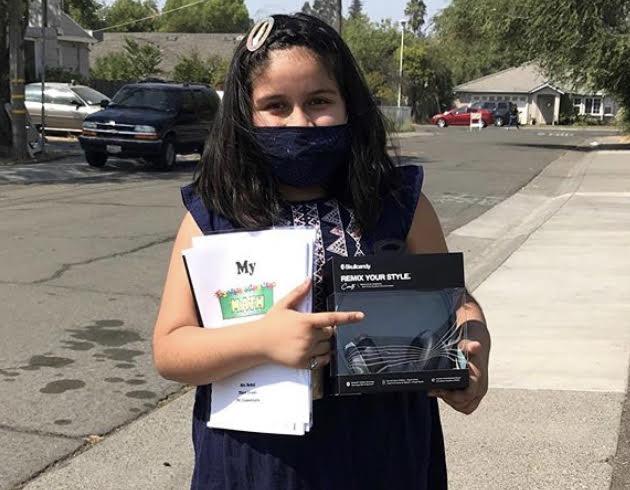 Imagine this: You are trying to listen to the instructions from your teacher on your laptop, the volume is all the way up, but you still can't hear. You look around the room and all your brothers, sisters, even parents are trying to do the same. Add the fact that you are still trying to figure out how distance learning works. Sounds frustrating, doesn't it?
That's what distance learning looked like for many students across the country this past spring, especially for those who have large families and small quarters to study and work from. Students and families at PS7 Elementary School were no exception.
The COVID-19 crisis has forced schools throughout the region to pivot once again and attempt to master distance learning for the unforeseen future. While many schools throughout the region had the resources to implement a successful long-distance plan,
others struggled to keep the students online, engaged, and motivated. Some students had access to a laptop and headphones – others did not – something this crisis has showed us – disparity exists and it's even more present in disadvantaged neighborhoods.
"One of the most significant issues encountered as we finished the school year exploring e-learning was students not being able to communicate clearly with their teacher and peers," said Sheana Cahill, Math educator at PS7 Elementary. "Most of our scholars come from low-income families, and while we were able to provide them with Chromebooks, they had multiple children along with parents all trying to have their own online school and work at the same time, which proved to be challenging for everyone."
To solve this problem, PS7 educators and staff contemplated providing the 350-student body with headsets. But as a title IX school, assets were limited. "We knew distanced learning would only work if our scholars had the resources needed," added Cahill. "Headsets were the key. We were thrilled that without hesitation
Bonney agreed to generously provide all the headsets we needed to help accomplish this endeavor."
Bonney, a locally owned business serving the Sacramento community and beyond for over 40 years, has supported PS7 Elementary in the past through school supply donations, funding field trips and backpack drives. Bonney is a home services company that believes in the power of investing in education and the wellbeing of the community.
"It's important for Bonney to pitch in and help a variety of local initiatives – including helping schools in need to ensure children do not fall behind in their education," said Michelle McCauley, VP of Marketing at Bonney Plumbing, Electrical, Heating and Air. "It's crucial, especially during these challenging times that we provide the equipment they need so teachers can implement distance learning successfully and students are able to focus on their studies, without distractions."
This school year, students will be able to hear their teachers' instructions clearly without any background noise, even if they share the room with five other siblings in the room. No one knows how long we have to adjust to distanced learning, it could be months, but
we all know it's a small sacrifice we have to make as educators and parents to show our children that we must do what's needed to make sure our community stays healthy.