All-Star Spotlight: Q & A with Anaiyah Cabrellis!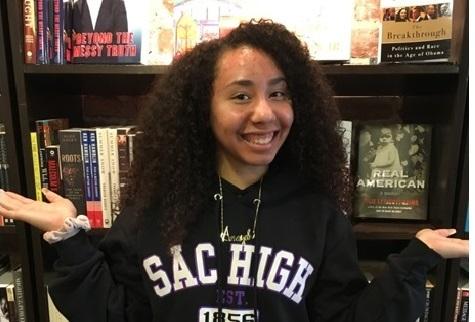 All-Star Spotlight: Q & A with Anaiyah Cabrellis!
Q: Tell us about yourself.
A: My name is Anaiyah and I'm 16. I'm the Junior Class President at Sac High, and an intern at Underground Books. I like to read, write and draw, and my favorite subjects are history and math.
Q: Awesome! What else are you involved in on campus?
A: I was a cheerleader my freshman and sophomore years but decided to take a break because it's a busy year for me. This is my 3rd year in College Track and tomorrow, I start my college courses at Sac City. Oh, and I also started a club on campus called Queens of Nia.
Q: Wow! When did you hear about St. HOPE/Sac High?
A: Two of my siblings graduated from Sac High and I've been with St. HOPE since the 2nd grade. My sister, Dominique Donae was on the dance team and the first class to graduate after Sac High became a charter school, and my brother, Nathan, was in Student Government. Dominique graduated and went to UC Berkeley and Harvard and Nathan graduated and attended Arizona State.
Q: Have you considered any colleges that you would like to attend?
A: Not sure yet. I've been looking into some private schools and HBCU's, like, USC, Stanford and Spellman. I'll be applying for the Questbridge Scholarship soon. If I get it, I'll get a full ride to the private school of my choice!
Q: Any idea what you'd like to study?
A: Business, Journalism or History.
Q: You've worked at Underground Books for a while. What do you like most about it?
A: It's a great bookstore. I like attending the events and finding out how authors came up with their book ideas and also the work experience — meeting new people and getting to know the community better.
Q: Why do you feel Underground Books is important in our community?
A: It's one of the only Black owned bookstores left in the nation. There are a lot of books about Black heritage that you might not find at major bookstores. It really gives the community a place to come to get books, to learn and gain insight about their cultural background and it encourages adults and kids to read.
Q: What are your plans for the summer?
A: College Track has a partnership with Global Livingston Institute, and they pick students from each College Track site to go to Africa for two weeks every summer. I had to interview with a panel, write some essays and submit a video about why I would be a good candidate and was one of three students chosen from my site, so I'll be going to Africa, working and continuing to take college courses.
Q: Where do you see yourself in five years?
A: Graduating from college and working or getting ready to go to grad school and living on my own!
You're well on your way Anaiyah! We are so proud of all that you have and continue to accomplish! Hooray!