Oak Park
Oldest Suburb of Sacramento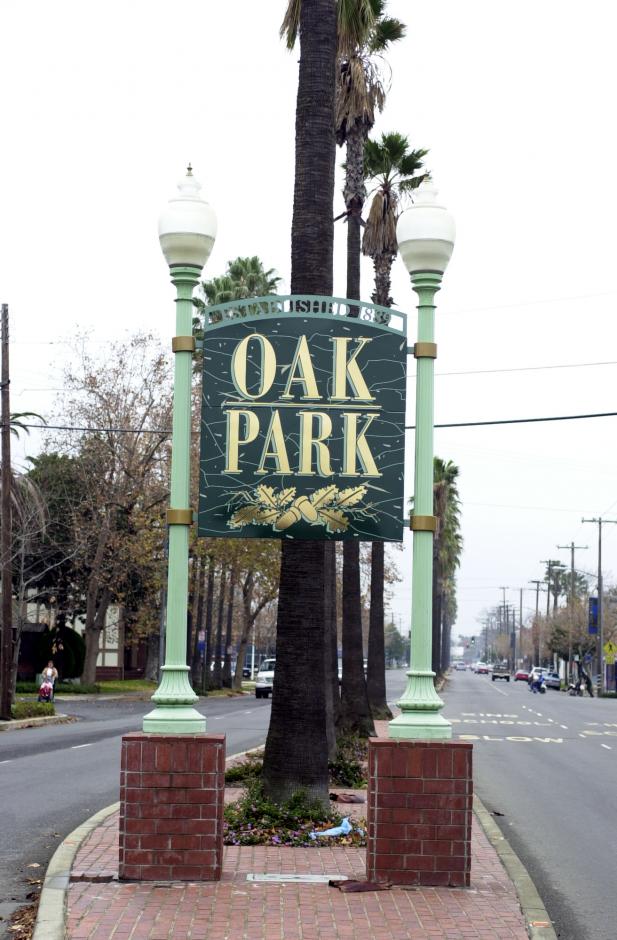 What started as the small vision of developer Edwin K. Alsip and the Oak Park Association, grew into Sacramento's first full-fledged suburb.
Beginning in 1887, with an initial division of 56 whole or partial lots, Oak Park gained a reputation as a community build by hard-working citizens.
In the early 1900's, most residents had blue collar jobs working for the railroads, state fair, canneries and the highway commission. During this time most residents were White, with scattered Blacks and Mexican Americans.
In the 1920's and 30's, streetcars allowed people from all across the area to come to Oak Park for its theater district, businesses and "Joyland" amusement park.
After 1945, there were increasing numbers of African Americans in Oak Park because many other neighborhoods in Sacramento were off limits due to racial covenants.
Oak Park, just southeast of downtown, is Sacramento's oldest neighborhood. In the early 1900s, it was a thriving community. The flight of working class jobs at employers like the Libby Cannery, which closed in 1982, left residents with limited opportunities. The construction of Highway 99, the removal of the 5th Avenue off-ramp and the streetcar that once connected Oak Park to downtown also meant the neighborhood was distanced from the city.
As result, during the last century Oak Park was considered one of the city's most crime-ridden, impoverished communities and residents suffered immensely from the infusion of drugs, prostitution and violence.
Today, Oak Park is much different. While the community wrestles with new challenges in finding a balance between old and new, it's a neighborhood on the rise.
The transformation was fueled by several non-profits' community programs, elected officials' call for new strategies and the proximity to downtown, which helped make Oak Park an up-and-coming real estate market.
One of those organizations is St. HOPE, founded 30 years ago by Oak Park native, NBA player and future Sacramento Mayor Kevin Johnson to help reduce long-time disparities in the neighborhood. What started as an after-school program in 1989 has grown into St. HOPE's three-school public charter network that serves predominantly African American and Latino students from the neighborhood and is producing extraordinary results. The premise is that high-quality schools with dynamic teachers and enriching programs can help boost economic mobility for local children.
We realized over time that in order to help bring real change, schools can't be islands of excellence within a larger community that they aren't touching. Building upon the initial goal of using public charter schools to close the achievement gap, we focused on economic efforts to revitalize the neighborhood.
We brought in business investments and tenants that are reflective and relevant to the neighborhood and provide jobs, housing options and enjoyable amenities. Oak Park is home to the 40 Acres Art & Cultural Center, which includes the Guild Theater and Underground Books, one of just 57 African American-operated bookstores in the nation. We also have become partners with College Track, Valley Vision and the Sacramento Employment and Training Agency, all similarly focused on community improvement initiatives.
According to a 2019 economic impact report prepared by the Tootelian Company, the economic impact of St. HOPE is nearly $5.7 million annually in Oak Park and more than $28.1 million annually across the region when jobs, labor income and indirect business tax revenue are factored in. Annually, nearly 390 jobs are created, which means more than $14.5 million in additional labor income that can be spent by households each year, and more than $1.5 million in indirect business taxes are generated.